An Entente Cordiale Against the Wrath of Amazon
(Bloomberg Opinion) -- Tesco Plc and Carrefour SA are joining forces in a grocery "entente cordiale" against price pressure from Amazon.com Inc. and domestic rivals. This is a sensible rather than a radical solution to their problems, and may only work to defend margins rather than boost them.
The logic here is simple: Carrefour and Tesco are teaming up to get better terms from suppliers. Their buying clout, with about $180 billion in combined net sales, according to Jefferies, will be put to work in not-for-resale and own-label goods. Both want to boost their offerings of the latter, which tend to have better margins. The three-year agreement could eventually yield around $520 million of total savings, though some analysts highlighted the difficulties in achieving a big result here.
This kind of cross-border purchasing alliance isn't a common sight. But the broader message being sent to investors is a positive one. Here are the bosses of two dominant incumbents, in an industry with its fair share of challenges, willing to pull all available levers to defend margins and improve valuations. That's good news if it helps them cut prices and keep customers.
Both Tesco CEO Dave Lewis and Carrefour's Alexandre Bompard were already promising thousands of job cuts, cost savings and store closures to fund price reductions in the face of tough competition. Lewis knows Tesco's market share is at risk of being leapfrogged by J Sainsbury Plc's Asda acquisition; Carrefour, meanwhile, is under pressure from rival Leclerc.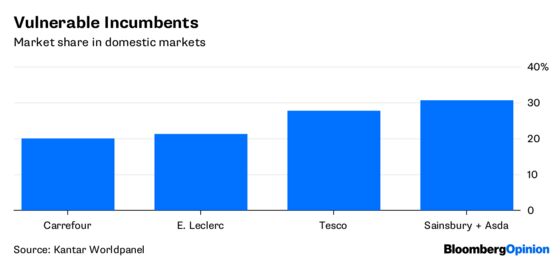 Considering there's little geographic overlap between Tesco and Carrefour, if the two giants wanted to get together the supply chain is the obvious area for them to cooperate. Lewis has warned that Brexit's inflationary hit to the pound would require a "deeper and richer" supply chain — the purchase of Booker is part of that. And, just a few days ago, Carrefour rivals Auchan and Casino Guichard Perrachon SA announced a purchasing partnership with Germany's Metro.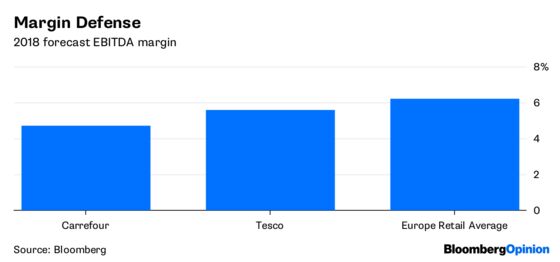 It would be a mistake to look at this as the first step on a potential path to a Tesco-Carrefour merger. That would bring unwanted baggage and less obvious savings.
This purchasing agreement will be a useful addition, rather than a solution, so it's fair enough that the reaction in the stock market on Monday was pretty muted — on a risk-off day in European trading, the shares in both fluctuated between small gains and losses.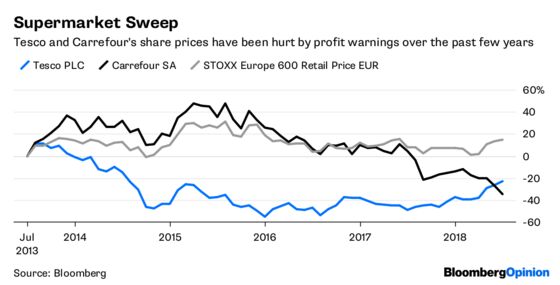 There's a lot more work ahead for both companies. Though Tesco's same-store sales and margins in its home market are starting to recover it still has some way to go to achieve its group operating margin target of between 3.5 percent and 4 percent by the 2019-2020 financial year. Carrefour has had a weaker start to the year, so its beaten-up margins are likely to benefit more than Tesco's from this purchasing arrangement, reckon Jefferies analysts. An entente cordiale won't put a rocket under valuations for either, but should give them a safety net.
Every little helps to keep prices low in the face of high competition and risks from Brexit. Today's announcement offers no more than that.