Sharp Investors Are Right to See the Silver Lining
(Bloomberg Opinion) -- Sharp Corp.'s decision Friday to cancel a 216 billion yen ($1.95 billion) share sale sounded like bad news.
Market instability stemming from U.S.-China trade tensions was among the factors cited by the Japanese company.
OK, sure, we can blame geopolitics if that makes executives at the Foxconn Technology Group-controlled company​​ feel better. But a 44 percent drop in Sharp's share price from a Jan. 11 peak this year is probably a better explanation.
Sharp's stock climbed 116 percent in 2016 and a further 43 percent in 2017 after the Foxconn takeover helped stabilize its finances. Expecting a repeat performance this year was wishful thinking.
It's not like Sharp needs the money. The display maker's balance sheet is the strongest it's been in years, with quick and current ratios – measures of ability to pay debt – at levels not seen since 2012.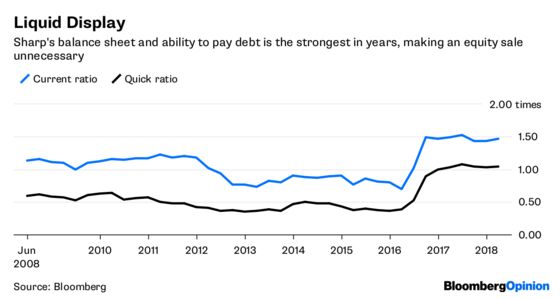 More than 85 percent of the cash from the planned share sale was to go toward buying back and retiring Class A stock. That's the equity Sharp issued three years ago to Mizuho Bank Ltd. and Bank of Tokyo Mitsubishi UFJ Ltd. So the transaction was designed to free itself of those Japanese lenders, with only a fraction earmarked for R&D and paying down debt.
The biggest victim of any new issuance would have been Foxconn itself since it, along with founder Terry Gou, holds around two-thirds of the stock. Selling shares at a level approaching the cheapest in 18 months wouldn't have made financial sense.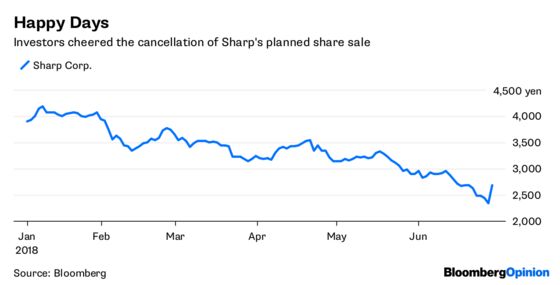 The stock's as much as 18 percent rebound in early Tokyo trade Friday shows other investors agree.
Foxconn is likely determined to get those Class A shares back, so expect Sharp to revisit its new issuance plans as soon as prices rebound. Which means it will need to dig around for some good news.