You're Probably Not the Amazon of Anything
(Bloomberg Opinion) -- There is an epidemic of companies comparing themselves to Amazon.com Inc. Let's put an end to this outbreak. 
Uber Technologies Inc., MoviePass Inc., Expedia Group Inc. and Groupon Inc. are among the companies that have expressed similarities to the e-commerce titan. There's a company that says it's the "Amazon of scientific supplies." Another has referred to itself as the "Amazon of the pharma industry." (Amazon announced on Thursday that it was buying a mail-order pharmacy, officially making itself the Amazon of the pharma industry.) One company jokingly called itself the "Amazon of dentistry." There are at least three claimants to the title of the "Amazon of travel" — Expedia, Italian travel website Wanderio and Irish airline Ryanair Holdings PLC. 
The Amazon comparisons tend to fall into three broad categories. First, companies use it to explain ambitions to become a broad, Amazon-like hub for sales of multiple goods or services —  a platform, in other words. Second, some use the Amazon comparison to brush off doubts about their financial health, as Amazon overcame worries about its business model. And lastly, some companies use Amazon as shorthand for how important or competent they are in their industry.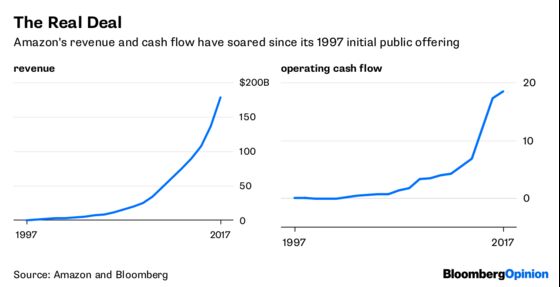 Mostly, though, it's a way for companies to get a contact high from Amazon's reputation as a consumer-friendly, innovative company. The phenomenon isn't new, but the Amazon comparisons seem to increase with the company's market value and profile. 
There was a running joke in technology circles about "Uber for X," referring to a flurry of on-demand startups that emerged in Uber's wake to give sellers of pizza, dog-walking services or illicit drugs access to people who wanted to buy. It's particularly ironic, then, that the original Uber is the leading example of "Amazon for X." 
Uber's Amazon comparison fits into both category one and two outlined above. The first expresses Uber's ambition to become a hub for myriad ways to move around a city by car, scooter, bicycle or public transit, without leaving the Uber app and with seamless ways for people to pay for it all.
By making the Amazon books comparison, the idea is Uber wants its core business of on-demand car rides to subsidize promising younger businesses such as flying cars. This is what Amazon is believed to do: Funnel profits from established businesses or categories of e-commerce to branch out into India or to make movies. The problem is, it's not clear that Uber's on-demand ride business is profitable on its own, and Uber's losses make Amazon's skimpy profits look like a gold mine.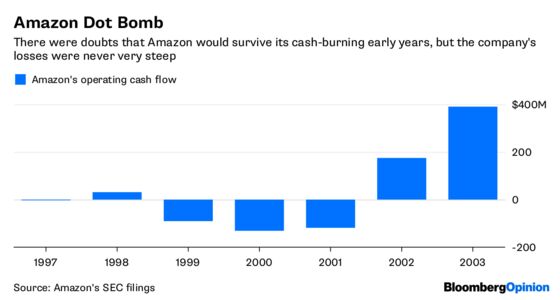 Similarly, MoviePass's CEO pointed to Amazon's history to minimize the scale of losses at the film subscription service: "Remember Amazon for … 20-plus years lost billions and billions of dollars," Mitch Lowe said in an interview that aired last week. The logic seems to be that Amazon burned cash in its early years, and everything turned out fine, so MoviePass will turn out fine.
Let's stipulate that incredibly few wildly unprofitable companies will turn out to be Amazon. Also, Amazon didn't lose money for 20 years, nor at the scale Lowe cited. One illustrative data point: Amazon in 1999 burned 6 cents of cash for every dollar of sales. MoviePass parent company Helios &  Matheson Analytics Inc. in the first quarter burned through $1.38 for each dollar of sales.
Still, I understand the appeal of borrowing Amazon's shiny halo. Heck, I'm going to give it a try. Please refer to me as the Amazon of technology writers.