Well Played, Xiaomi, for That 200% Return on Midea
(Bloomberg Opinion) -- While VC investors are counting their winnings ahead of Xiaomi Corp.'s IPO this week, its prospectus shows that Lei Jun's outfit is capable of some savvy deal-making of its own.
One of the company's standout transactions during the pre-IPO funding rounds came in December 2014.
That month, household appliance maker Midea Group Co. announced an agreement to sell 55 million shares to Xiaomi in a private placement. The transaction closed in June 2015 at 22.01 yuan per share for a total price of 1.21 billion yuan ($183 million), according to Midea's 2015 annual report. Coincidentally, Xiaomi's lock-up period for those shares ended this week. Midea's annual report for the following year shows Xiaomi holding 82.5 million shares after receiving a 50 percent stock dividend.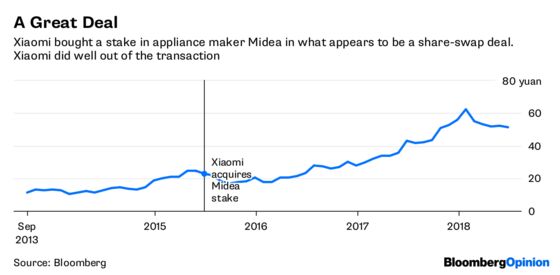 In addition, Xiaomi's cap table shows Midea's Mecca International (BVI) as the second-largest holder of Series F-1 preferred shares, which started being issued around the same time. Those shares are in escrow for six months from the IPO date, according to Xiaomi's prospectus.
So this transaction looks like a share swap, with Xiaomi the big winner. Its stake in Midea's Shenzhen-listed equity is now worth about 4.2 billion yuan after a gain of more than 200 percent. Series F-1 buyers ponied up the most out of all Xiaomi's funding rounds and are set to reap a mere 39 percent if Xiaomi prices at the middle of its indicated range.
Well played, Xiaomi. Well played.