Harry Kane Is Driving the British Economy
(Bloomberg Opinion) -- "Football's coming home!" That's the chant being sung — in a triumph of hope over experience — by English soccer fans as their team progresses into the second round of the World Cup. It better be. The economy is counting on it.
The Bank of England just published its summary of business conditions for the second quarter of 2018, based on its regular survey of contacts by its regional agents. The World Cup looms large in the hopes of the 230 or so companies that participated in the survey.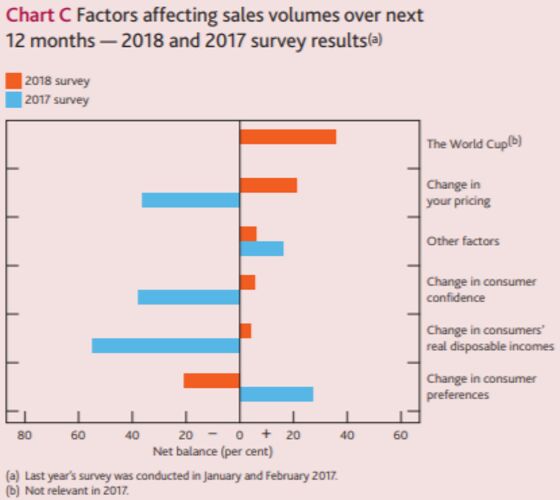 British retail sales were battered earlier this year by bad weather. The businesses spoken to by the BoE thought a good run by England in the World Cup would be the biggest factor in restoring their fortunes, even more so than an improvement in consumer confidence and an increase in disposable incomes. The central bank said sales of electronics — what better time to splash out on a mega-sized television? — and alcoholic drinks would be likely beneficiaries from success on the pitch.
There's a risk, though, that football fans will go thirsty. The combination of a shortage of carbon dioxide gas and a heatwave means pubs have been running out of some beer brands.
England plays Belgium on Thursday night, with both teams already guaranteed a place in the next round of the competition. Next up will be Senegal, Japan or Colombia, none of whom are giants of the game. With England's arch-soccer nemesis Germany falling at the first hurdle, hopes are high that this year might be different after more than 50 years of failure. Britain's beleaguered retailers would drink to that.