Amazon Is Serious About the Pharmacy Business After All
(Bloomberg Opinion) -- It was nice while it lasted.
Amazon.com Inc. lulled investors in recent months into believing that maybe it wasn't all that interested in the prescription-drug market, and would instead nibble around the edges of health care. It had let lapse some pharmacy licenses it had obtained, and in recent months talked up its interest in selling medical supplies to hospitals and other health-care providers through its existing e-commerce operation aimed at businesses. Fears of Amazon's impending entry into the prescription-drug market started to ebb, and drugstore stocks took a breath.
So much for that. The company's surprise acquisition of mail-order pharmacy startup PillPack on Thursday sent a clear signal that Amazon's pharmacy ambitions aren't quite so benign. 
Acquiring PillPack will give Amazon an immediate nationwide presence in the prescription-drug market, and put tremendous resources behind Pillpack's efforts to create a better experience for people who get drugs through the mail. It's possible to imagine that Amazon might use its Whole Foods grocery stores for a physical drugstore operation, too. 
Shares of Walgreens Boots Alliance Inc., which had the misfortune of hosting its third-quarter earnings call as the Amazon deal was announced, slumped in early trading on Thursday. Rite Aid Corp., CVS Health Corp., and other companies with a foothold in prescription drug sales also took a tumble, and it's not hard to see why.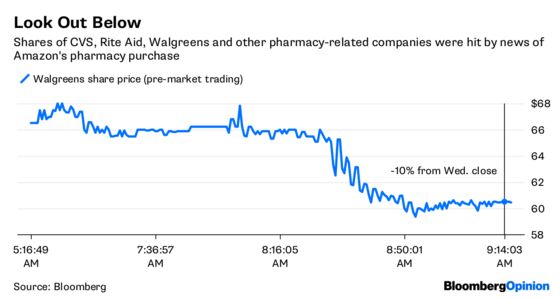 Prescription drugs were one of the only things that pharmacies offered that Amazon couldn't. No longer. Drug-store chains are highly reliant on prescription drug sales as both a source of revenue, and a way to draw people into stores to buy makeup or milk. Prescription drugs accounted for 72.5 percent of its U.S. pharmacy sales, with other retail sales making up the rest. Amazon wants to absorb a bigger share of people's spending, and a foray into prescription drugs fits with that mission. 
Mail-order prescriptions have declined in recent years. If Amazon and PillPack are able to make getting drugs through the mail cheaper, easier, and more appealing, that trend could reverse. The resulting pressure on market share and margins will be bad for anyone with a presence in the mail-order drug market, and even worse for retail pharmacies.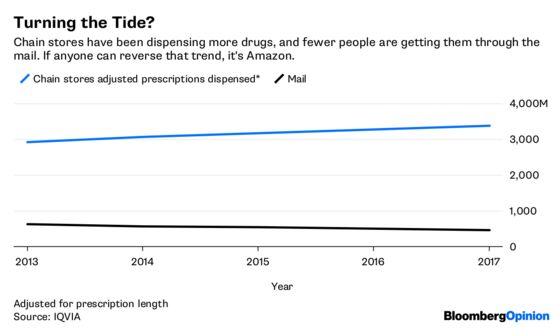 The acquisition also could be a boost for Amazon's health-care joint venture with Berkshire Hathaway Inc. and JPMorgan Chase & Co. Buying a pharmacy is an efficient way to cut out expensive middlemen, and it gives the venture's CEO Atul Gawande an interesting potential tool with which to manage employee drug costs and adherence.
This isn't Amazon's first try at turning itself into a drugstore. In the late 1990s, it purchased part of Drugstore.com, one of the first online sellers of pharmaceutical supplies and other items. That investment didn't turn out to be Amazon's ticket into the pharmaceutical industry. Most of Drugstore.com's sales were for over-the-counter items rather than prescriptions, and then Walgreens bought out the online retailer. 
But the mail-order prescription-drug business is larger than it was in the late 1990s, and Amazon is a very different company. 
Amazon is used to starting small in new areas, until it's a force too powerful to ignore. Famously, its 12-year-old Amazon Web Services operation offering computing horsepower to companies was greeted with a shrug by other sellers of information technology. Now, AWS is on track to generate more than $20 billion in annual revenue, it has become perhaps the mostly influential trend in technology of the last decade, and it has forced every major software and hardware company to transform itself to keep up.
Today, though, Amazon won't sneak up on any industry. Executives in nearly every corporate corner talk openly about Amazon encroaching onto their turf, and companies from big banks and home insurers to package shippers and online travel companies spend time explaining their plans to combat Amazon, or why the e-commerce titan won't swallow their businesses.
CVS took that to something of an extreme when it announced its defensive $68 billion purchase of insurer Aetna Inc. at the height of the industry's Amazon panic. 
Pharmacies have done their utmost to convince investors that the threat of Amazon was overstated. They're going to have a much more difficult time doing so from now on. On Thursday, the CEO of Walgreens told analysts that he is "not particularly worried" about Amazon's purchase of PillPack, because operating a pharmacy is a complicated endeavor. He's right, but also wrong. Underestimating Amazon is never a smart idea. Walgreens might be haunted by that prophecy.