Tax and Spend Is the New Game In Brexit Britain
(Bloomberg Opinion) -- British Chancellor of the Exchequer Philip Hammond and Bank of England chief Mark Carney are a two-man Brexit juggling act, valiantly trying to convince the outside world that they can keep the U.K. from crashing to earth.
The duo have survived political mud-slinging by Brexiteers, a faltering economy and heavy criticism of deep cuts to public spending (Hammond) and historically low interest rates (Carney.) Financial markets have kept faith with them both, as two of the few remaining adults in the room amid the puerility of Boris Johnson and Co. But things are about to get trickier for these self-described pragmatists, and that has to be a risk for U.K. asset values.
Last week saw Hammond's ruling Conservatives become the party of tax-and-spend – with an extra 20 billion pounds ($26.5 billion) a year promised to the National Health Service. Meanwhile, the Bank of England shifted ever-closer to a rate hike at a time when Brexit and trade tariffs threaten growth. That this happened without any real moves in U.K. bond yields or the pound suggests the markets still believe the Hammond and Carney double-act is credible and in control.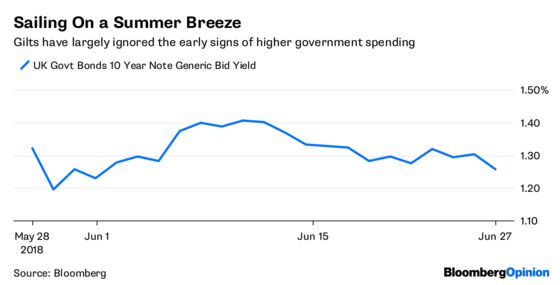 Yet managing Brexit is only part of the challenge in the U.K., as shown by that extra money for the NHS. While the British public appears fatigued by the minutiae of a hard or soft EU exit, it is more exercised by the austerity spending cuts of recent years – hence the surprisingly strong performance of Jeremy Corbyn's Labour Party in last year's general election. Even many of Hammond's Tory colleagues think austerity has had its day.
That explains the sudden emergence of the begging bowl from Conservative ministers. Defense Secretary Gavin Williamson wants an extra 20 billion pounds too for military spending, according to the Daily Mail. Hammond, known to some as Spreadsheet Phil because of his accountant-style approach, is fiscally cautious by nature. But any temptation to match Corbyn's spending promises would surely test the bond markets' restraint – especially with Brexit and maybe a cyclical slowdown looming.
The Bank of England faces its own credibility challenge; not just in navigating Brexit, but in normalizing interest rates. Outgoing MPC member Ian McCafferty warned on Tuesday that central bank bond-buying has stoked anger among people who think it's ineffective and creates asset bubbles. Labour politicians have seized on this distrust, saying the BoE should target productivity too. A more politicized central bank would inevitably spook the markets.
Investors remain pretty sanguine for now: 50-year inflation-linked gilt yields are in clearly negative territory, according to Mark Dowding of BlueBay Asset Management. Domestic pension funds have to buy U.K. debt, and international investors have been lured to London because of even lower yields at home. Overseas ownership of gilts rose to 27.9 percent in 2017 from 24.7 percent in 2014, says Schroders economist Azad Zangana.
But as the global economy hits a rough patch, and central banks struggle to normalize post-crisis policies, one can't ignore the domestic politics. Brexit sucks all of the air out of the room in the U.K., but other forces are at play too.