How Tech IPOs Got Their Groove Back
(Bloomberg Opinion) -- It's increasingly clear that the stock market's arms are wide open to initial share sales from all comers, including in the technology sector. And in a reversal from a prior recent peak of technology stock debuts, the latest batch of industry IPOs is proving to be a wise investment.
As documented elsewhere, a slow patch for initial public offerings starting around 2015 has ended, and the tech industry is no exception. Since the beginning of this year, there have been 20 initial public offerings of tech companies on U.S. stock exchanges, according to Bloomberg data, excluding companies that have sold less than $10 million in stock. If the pace holds for the rest of 2018, the number of tech IPOs in the U.S. will have returned to levels not seen since a tech IPO mini-boom in 2013 and 2014.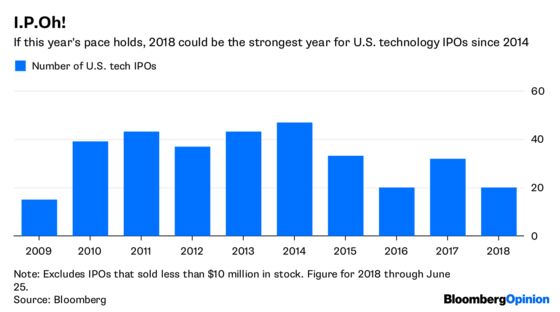 There are complex reasons for the rebound in tech debuts on the stock market. Stock prices are going up (mostly), the U.S. economy is (mostly) in good shape, and investors are eager to own shares of fast-growing companies in technology and other industries.
Those conditions aren't necessarily new, of course, but the market and economic conditions also finally align with the willingness of young tech companies to sell shares to the public. The reasons for this are complex, too. Some tech startups are gray around the temples and it was past time to go public. The fear of startups taking a leg down in valuation as they go public has all but evaporated. IPOs are —  dare I say it — cool again in Silicon Valley.
And there has been another important change: Investors are collectively making out well in new listings of technology companies. In a feedback loop, the strong performance of recent tech IPOs should push more young companies to choose the initial public offering route. 
This wasn't always the case. My analysis of tech companies that went public from the start of 2010 to the spring of 2016 found about half had share prices below the level at which they first sold stock to the public. Essentially, then, buying the first batch of public stock from a tech company was no better than a coin-toss bet during that six-year stretch. 
That's not true anymore. Of the 52 technology companies that held IPOs on U.S. stock exchanges since the beginning of 2017, more than 70 percent are trading higher than the IPO price, according to an analysis of Bloomberg data. The median stock price gain for those companies is 61 percent — far outpacing the S&P 500 Index over that period (up 22 percent) and also topping S&P's grouping of technology firms, which has risen 51 percent from the final trading day of 2016. (Of the 20 that went public in 2018, the median return is 66 percent, and all but three have stock prices higher than their IPO prices.) Share prices of newly public companies have also performed well overall, not just in tech. 
There are wildly varying outcomes, as you would expect from relative stock market newcomers. Roku Inc., maker of devices that connect TVs to streaming video services, and business software firm Okta Inc. are trading about three times higher than the price at which they first sold stock to the public last year. Among the big losers in the recent batch of tech IPOs are Blue Apron Holdings Inc. and the parent company of Snapchat. Investors essentially shunned Blue Apron and its meals-in-a-box business model the minute it hit the stock market. Snap Inc. did fine out of the gate, but the company's uneven advertising sales growth, a significant slowdown in new users and odd management decisions have sent shares down more than 20 percent since its March 2017 stock debut. 
There are caveats to the solid stock market performance of the 2017-2018 batch of technology IPOs. An accommodating market for new stock listings means there will be duds. Arguably, that is what happened in the relatively fertile period for tech IPOs in 2013 and 2014. Young tech companies had a relatively easy time going public, and that was true of both good and not-so-good companies. That history means IPO investors will have to become more discriminating now to sort out the most promising stock market debutantes from the ones more likely to flop.
And technology IPOs receive an incomplete grade while the stock market waits for the tech White Whales: Uber Technologies Inc., Airbnb Inc., Didi Chuxing Inc. and other super "unicorns." We've seen from the run-up to the IPO of smartphone titan Xiaomi Corp. that IPOs of richly valued private tech companies can prove extraordinarily messy. If Xiaomi or other high-profile private tech companies have a rough time as public companies, it will cast a pall over the rest of the IPO market. 
Investors have also found other ways to ride a growth rocket ship. The median 61 percent stock price gain of tech IPOs from 2017 and this year might be heady, but the median share-price performance is 59 percent for the five U.S. technology superpowers. IPO or FAAMG,  either one has been a hot ticket.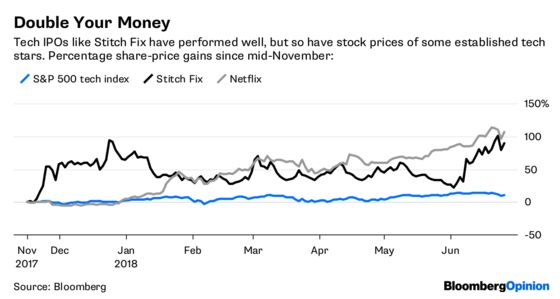 And that's the rub for investors. If they wanted to double their money in a few months, they could have fought for the small batch of IPO shares sold by Stitch Fix Inc., the subscription apparel company whose share price has climbed 90 percent since its first day as a public company in mid-November. Or they could have fired up an online brokerage account to plunk money down on Netflix Inc. Its shares have more than doubled over the same period. No IPO bankers needed.