Why a $500 Million Bet on a Looser FDA Makes Sense
(Bloomberg Opinion) -- Biotech just got a new battleground stock. 
Global Blood Therapeutics Inc. on Wednesday released data about its experimental treatment for sickle-cell disease that showed the drug was able to increase hemoglobin in patients with the illness. While generally positive, the data still has some holes and is in the early stages, so investors initially reacted by sending the shares lower. But they eventually turned optimistic, and the stock soared more than 27 percent in intraday trading, adding as much as $500 million to Global Blood's market value. 
Global Blood's management is so confident in the treatment, called voxelotor, that it's taking these early results straight to the Food and Drug Adminstration in pursuit of an accelerated approval. It's one of the biggest gambles yet on the notion that the FDA has become more flexible under new commissioner Scott Gottlieb — but it's one worth taking.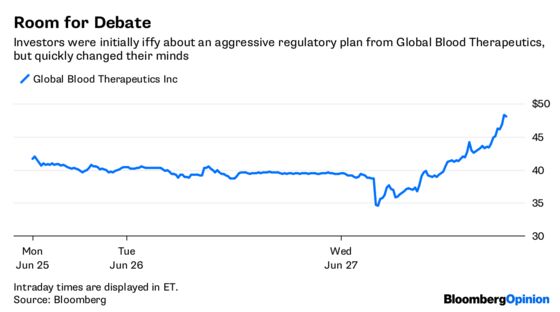 Global Blood's trial did succeed in its main goal, and that's a positive. It didn't, however, show a statistically significant reduction in painful vein obstructions. The company ascribes this to the design and short length of the trial. Global Blood's attempt to get patients to measure their own symptoms also flopped. 
But the FDA has shown a willingness to approve drugs based on so-called surrogate endpoints since Congress created the accelerated-approval pathway and tasked the agency with being extra-flexible when it came to drugs for patients with few other options. Accelerated approval has been widely used in cancer for years. 
And the FDA has been on a trajectory toward ever-greater flexibility. First came the controversial accelerated approval of Duchenne Muscular Dystrophy drug Exondys 51 from Sarepta Therapeutics Inc. in 2016 based on a tiny trial and uncertain data. Then Scott Gottlieb took over last spring. He has consistently emphasized the need for flexibility for everything from Alzheimer's to gene therapy, and has made speeding drugs to market a priority.
Global Blood's drug will be a key test of how far that flexibility goes, but the company likely wouldn't be taking this path if it didn't have some degree of confidence that this data will be sufficient.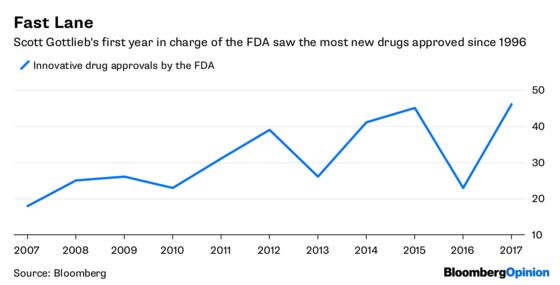 A rapid approval is beneficial for any drug. It may be particularly important for GBT, as multiple competitors are attempting to develop potentially curative gene therapies for sickle cell. Those medicines are still some years from making it to market, but may represent a formidable competitive challenge if they prove to have a significant and durable effect.  
Global Blood's medicine will likely be positioned as a cheaper and less complicated alternative to gene therapies — it's a once-a-day pill rather than a massive infusion of gene-editing viruses. The company will have a better chance at commercial success if it gets to market early, gets doctors comfortable with the medicine, and gets patients taking the drug. 
There are genuine consequences if this strategy flops, and not just for the firm's stock price. The company will be focused on this route to market in the near future, and if it fails it will take longer to design and run a new trial if one is needed. But the combination of commercial upside, the FDA's clear shift, and patient need adds up to a compelling case to take the riskier path.