China Renaissance Comes of Age
(Bloomberg Opinion) -- Loss-making China tech plays are coming to Hong Kong's IPO market thick and fast but an unprofitable mainland investment bank that's making a name for itself in fund management may have the edge.
China Renaissance Holdings Ltd., founded by former Morgan Stanley banker Fan Bao in 2005, plans to raise about $800 million via an initial share sale. That would value the firm at between $4 billion and $5 billion, according to Reuters. Early backers include JD.com Inc. Chief Executive Officer Richard Liu, and China Renaissance's focus is on helping new-economy firms raise capital.
The company reported a net loss of $65.3 million for the three months ended March on revenue of $22.7 million, versus a deficit of $1.14 million for the same period of 2017. Much of the widening was due to a sharp rise in the value of preferred shares held by the company's backers, which get booked as a liability under IFRS accounting standards.
China Renaissance has built its reputation facilitating high-profile tech mergers. It helped arrange the marriage of Didi and Kuaidi to form China's top ride-hailing outfit and advised on the amalgamation of Meituan and Dianping to create a restaurant delivery giant. More recently, it was involved with Momo Inc.'s purchase of dating site Tantan Ltd. China Renaissance is also a lead player when it comes to arranging private placements for new-economy firms.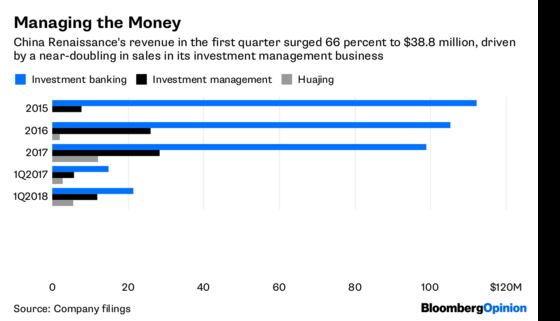 But the company's real strength may lie not in investment banking, but in fund management. China Renaissance set up a private equity arm five years ago that already has $4.1 billion in assets under management. Managing rich people's money is big business in China, where investment options beyond a volatile stock market and real estate are few.
China Renaissance's private funds unit also has the advantage of investing in a range of portfolio companies, many of which its investment banking arm then helps to list. Three of China Renaissance's portfolio firms are currently tapping the public for capital – Uxin Ltd., an online used-car platform that's listing in the U.S., Zhaogang.com, an internet steel exchange forum that plans to debut in Hong Kong, and Meituan Dianping. China Renaissance is advising on both Meituan Dianping and Zhaogang.com's floats.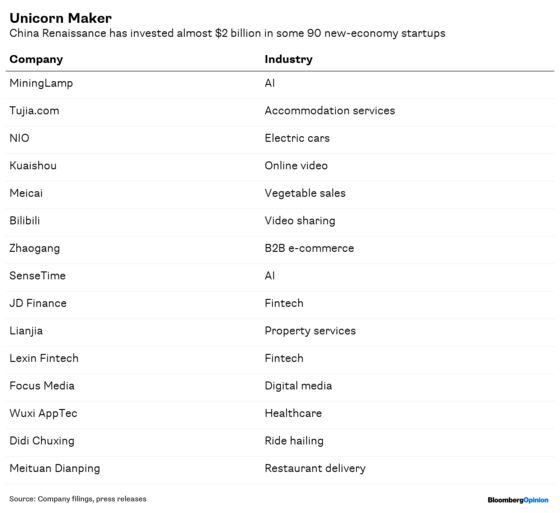 Of course there's a risk in buying into a business that depends on ever-rising valuations of Chinese startups. The current pall in public markets could have a detrimental impact and doesn't bode well for Huajing Securities Co., China Renaissance's mainland brokerage. That business will also be vulnerable to revenue declines should Beijing clamp down on domestic IPOs, like it did during the stock market crash of 2015.
If the malaise continues, China Renaissance's ability to fund private startups may also take a hit. It often only takes one big deal to go sour for investors to flee. The Hong Kong IPOs of Xiaomi Corp. and Meituan Dianping will be closely watched.
But for now at least, there's plenty of cash. It takes a Chinese startup an average of four years to reach a $1 billion valuation, versus seven in the U.S., and the nation accounts for half of the top 10 unicorns globally.
All that augurs well for China Renaissance's Hong Kong debut. While big tech names may grab the limelight, it's sometimes those businesses behind the scenes with the real promise.