Trump's Auto Tariff Pain Will Spread and Linger
(Bloomberg Opinion) -- For the global auto industry, an underappreciated risk of President Donald Trump's protectionist agenda is that his tariff threats will cast an indefinite pall over companies' operations and plans.
Harley-Davidson Inc.'s decision Monday to shift more production out of the U.S. underlines the impact of escalating trade conflict on automakers. Trump suggested the motorcycle maker had jumped the gun, saying in a tweet that "ultimately they will not pay tariffs" selling to the European Union, cited by the company as the reason for its move, and urging patience.
Too late, perhaps. Harley-Davidson's situation is symbolic of the kind of disruption threatened by the Trump administration's trade policies, as my colleague Brooke Sutherland wrote. Carmakers and their trade bodies are panicking, with even the typically serene Japanese automakers association speaking out to express concern over the prospect of additional U.S. tariffs. 
While the president's tariff threats may be negotiating ploys that ultimately prove ephemeral, companies have to deal with existing conditions – and each move by an individual company to relocate production promises wider industry upheaval. 
Take auto-parts makers. Overshadowed in the scaremongering and potential for losses to U.S., Japanese, European and South Korean carmakers is the hit their suppliers stand to take.
Parts giants Magna International Inc., Delphi Technologies Plc and Lear Corp typically match their production capacity to the needs of their automaker customers. U.S. manufacturing facilities account for 10 percent to 25 percent of their geographical split. As the ground under them shifts just as they try to manage costs, supply chains will be disrupted, Moody's Investors Service pointed out in a report this week.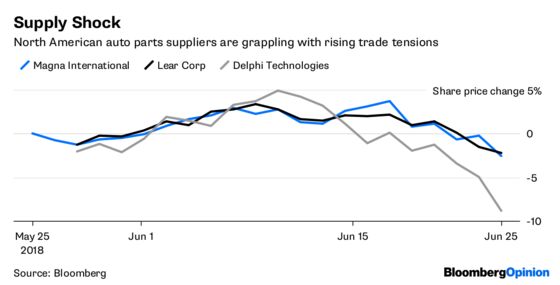 The scale of potential disruption is significant. Car parts cross borders in various shapes and forms multiple times. Canada and Mexico, for instance, alone send almost $60 billion of auto parts to U.S. plants, or half of all the country's imports for that category, according to the Center for Automotive Research. 
Then, consider that 30 percent of braking systems imported for U.S. vehicles come from China, 21 percent of steering and suspension systems come from Japan and more than 64 percent of car seats come from Mexico.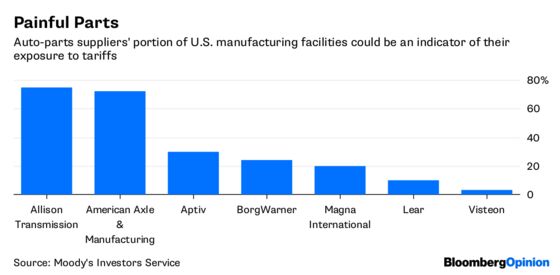 Harley-Davidson said in its filing that it could take the company nine to 18 months to shift production, and that it won't pass on costs to dealers and customers, instead digesting the up to $100 million a year that EU tariffs will add. Automakers typically squeeze suppliers in tough times, passing down costs to hold up margins.
For smaller auto-suppliers that rely on economies of scale, even the tiniest uptick in tariffs could upend the economics of manufacturing in the U.S. Changing cost structures could push operations further offshore and ultimately raise the cost of an American-made car.
American Axle & Manufacturing Holdings Inc., which has more than 70 percent of its facilities in the U.S., set up a joint venture in China to produce driveline systems starting later this year. Meanwhile, Toyota Motor Corp. on Tuesday asked the Vietnamese government to grant it more incentives to continue producing there.
The irony of Trump's tariffs is that China's carmakers will be largely unscathed by the trade conflict, given their small volume of exports, which account for less than 3 percent of their revenue. And while parts suppliers such as Nexteer Automotive Group Ltd. will be affected, the Hong Kong-listed company already has significant production in the U.S., where it mostly produces for local customers.
Whether these tariffs actually come into play, their damage is already being felt.