Spreading Trade Tension Infects Tech Stocks
(Bloomberg Opinion) -- The U.S.- China trade dispute seems to have an odd casualty: tech stocks.
The market dived on Monday, with the Dow Jones Industrial Average falling nearly 500 points before rebounding by the end of the day after President Donald Trump said he would deploy investment limits against China, which has already been responding to U.S. tariffs with those of its own. Markets may also have been spooked by motorcycle maker Harley-Davidson Inc., which said it was moving jobs overseas because of trade war concerns. A group of Bank of America strategists, led by chief investment strategist Michael Hartnett, said new and proposed tariffs would boost U.S. protectionism to levels not seen since the mid-1940s.
But plunging even more than the market in general on Monday were technology stocks, namely the big tech names that have come to be known as FANG — Facebook Inc., Amazon.com Inc., Apple Inc., Netflix Inc. and Google-parent Alphabet Inc. — which dropped an average of 3.3 percent, more than double the 1.4 percent for the S&P 500 Index. It seems obvious that shares of heavy machinery companies like Caterpillar Inc., which is a large exporter to China and elsewhere, and also a user of tariff-hit steel, would take their lumps. Its shares were down 2.4 percent. But Facebook and Netflix, both of which are effectively banned in China? Their shares were down 3 percent and 7 percent, respectively.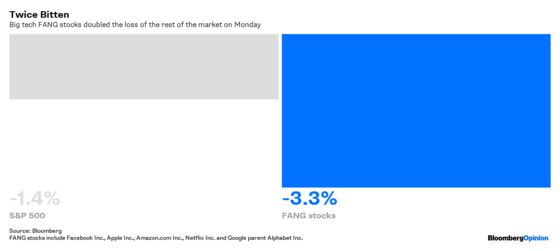 One conclusion is that investors think a modern trade war will be much broader than is now perceived. Big tech won't be immune. China may have ways, other than tariffs, to hit tech companies. But that doesn't explain why big technology stocks would sell off more than the rest of the market.
During the past year, tech has been providing an increasing amount of the market's overall gains. In a research note on Monday, strategist Jim Paulsen of the Leuthold Group noted that 58 percent of the gains of the top 100 performing stocks in the S&P 500 have come from technology. That's far more than the value of tech stocks in that group, which is closer to 26 percent. What's more, it's getting close to levels last seen at the height of the dot-com bubble, when, as Paulsen points out, tech made up 68 percent.
Paulsen hasn't calculated whether the percentage of gains of top performers has been higher at other times. And he calculated the number before Monday, which would most likely have reduced that figure a bit. What's more, to get to his number, Paulsen shifts Amazon and Netflix from consumer discretionary, where S&P puts them, to the tech sector, where most investors would.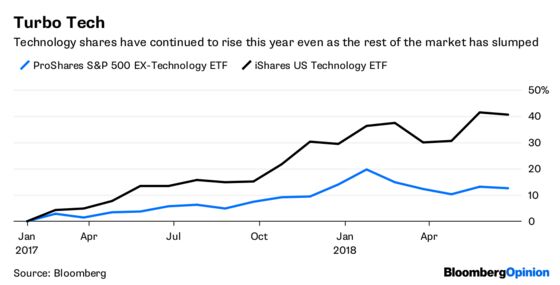 The point is that the market's problems may not start with tariffs but tech. There was talk last year about how narrow the breadth of the market had become. But it's become worse this year. The iShares S&P Tech ETF is up 10 percent this year, while the ProShares S&P 500 Ex-Technology ETF is down 1.1 percent, both before dividends. Last year, tech stocks were up 35 percent, but even non-tech stocks were up 16 percent. It's not uncommon for a few stocks to dominate market gains, but when they are concentrated in a single sector, that can be a problem. If technology stocks are increasingly the only ones moving upward, that could signal that investors think the economy in general is not as firm as it looks. And indeed, signs have been emerging that the global economy could be slowing, with that of the U.S. not be far behind. Add tariffs to that mix and high-flying tech stocks, which have had more than their fair share of stocks' gains in the past few years, could find themselves on the steep end of the other side of that slope.