Erdogan's Win Is No Victory for the Lira
(Bloomberg Opinion) -- Turkish President Recep Tayyip Erdogan may have won another five years in office, but it is harder to see whether the country as a whole will benefit. The lira only recovered modestly on Monday. While the election uncertainty has gone, what happens next is still up in air.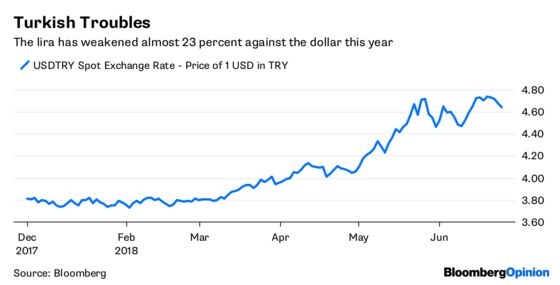 Fixed-income markets, credit default swaps and equities haven't returned to the levels they were at before the election was called. Monday has seen a relief rally based purely on the fact that the result is clearer than the polls had suggested and a second round of voting has been avoided.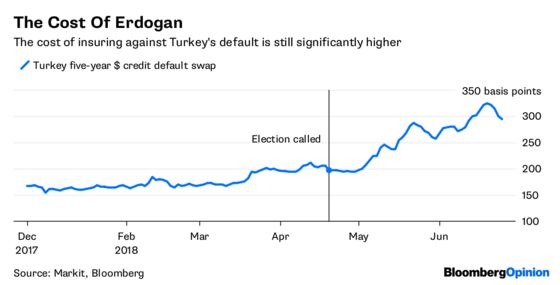 With his substantially increased powers, the president needs to outline quite how much control he will take over the economy. How much he compromises the independence of the central bank will be fundamental to how the currency markets react. Any attempt to reverse some of the 500 basis points of rate hikes since last April would be negative for the lira.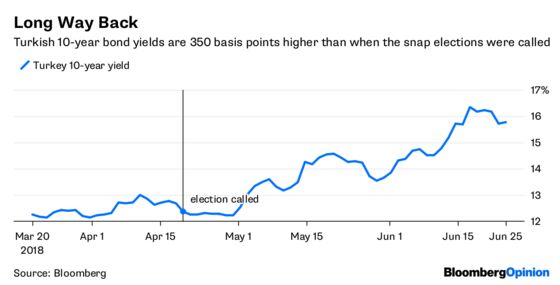 Bringing inflation down from above 12 percent ought to be the first order of business for the new government, but Erdogan may be tempted to try to boost growth, risking an inflationary spiral.
Turkey is reliant on dollars for much of its funding — as its large current account deficit shows — making it vulnerable to any strengthening of the U.S. currency. The International Monetary Fund reckons Turkey relies on external financing for about 25 percent of its gross domestic product. And its currency reserves are barely half of these short-term requirements.
The currency markets need to see a coherent economic policy and how much responsibility for that will be given to the central bank. It should be left to determine interest rates without political interference. Only then might the lira be able recover some of its 23 percent loss against the dollar this year.