Commonwealth Bank Cleans House
(Bloomberg Opinion) -- Someone at Commonwealth Bank of Australia seems to have been reading the Sermon on the Mount.
"If thy right eye offend thee, pluck it out, and cast it from thee," goes the biblical verse. "For it is profitable for thee that one of thy members should perish, and not that thy whole body should be cast into hell."
That brutal advice is fairly routine for companies in difficulty. If you have a division that's causing a share of problems disproportionate to its earnings power, get rid of it.
CBA has been on this path for a while. Last September it sold its life insurance arm to AIA Group Ltd. and announced a review of the Colonial First State Global Asset Management investment management operations.
On Monday, the Sydney-based group said it would spin off its wealth management and mortgage broking businesses including Colonial, and further review its general insurance unit, a process that may result in another sale.
In essence, Chief Executive Officer Matt Comyn, in the role since early April, is promising to boil a company that once aspired to be a broad-spectrum financial services business down into a narrow bank.
That makes a lot of sense.
The 2.4 percent decline in CBA's share price Monday morning looks like an overreaction: With about A$500 million ($371 million) of net income in 2017, the divisions being spun off represented around 5 percent of CBA's A$9.95 billion total.
Furthermore, existing shareholders won't lose those earnings unless they choose to sell their shares in the separated group. The wealth management unit, which included the already-sold life business and will essentially be disbanded, has rarely accounted for more than 10 percent of earnings.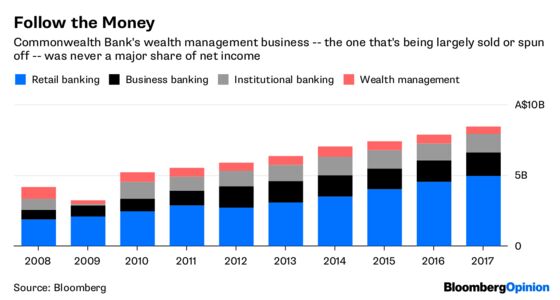 It's possible that over the years these businesses accounted for a proportionate share of management's time — but executives will no doubt now be regretting that, given how much information the Royal Commission into financial services misconduct is digging up on bad practices at the bank.
To be sure, much of the evidence heard to date involves operations under the Commonwealth Bank umbrella, rather than the ones inherited from the 2000 takeover of Colonial Mutual Life Assurance Society Ltd. that are now being spun off. Still, Comyn is right to recognize that management needs to stick to its knitting of taking deposits and making loans rather than getting distracted cleaning up the vestiges of a universal banking model that never made much money.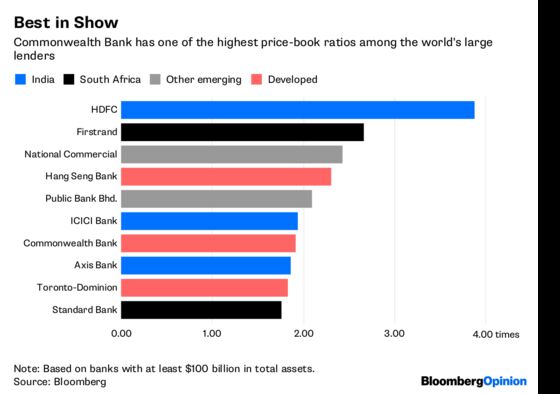 This columnist has been skeptical about whether appointing an insider like Comyn to clean out CBA's Augean stables would work, but his willingness to cut ties with these businesses — plus the shake-up of his executive team also announced Monday — suggests a preparedness to at least focus on the task at hand.
The bigger problem for CBA lies ahead: With an Australian housing market that's delivered the lion's share of its profits now weakening, the tide is going out and we're about to see who's been swimming naked. CBA still trades on one of the world's highest price-book ratios for a large bank.
If it wants to prove itself worthy of that designation in the tougher days ahead, distractions must be kept to a minimum.