Trump and His Gulf Friends Win Big in OPEC Deal
Bloomberg
Opinion
(Bloomberg Opinion) -- OPEC's decision to "strive" to bring compliance with their output deal to 100 percent means that more oil will hit the market in coming weeks. And most of that oil will come from Saudi Arabia at the expense of Venezuela and Iran. That's a big win for President Donald Trump and Saudi Crown Prince Mohammed bin Salman.
As I noted earlier this week, a compromise at this OPEC meeting would require the group to abandon individual output targets and Iran to cede market share to Saudi Arabia. That's precisely what has happened, even if no OPEC oil minister will admit it in public.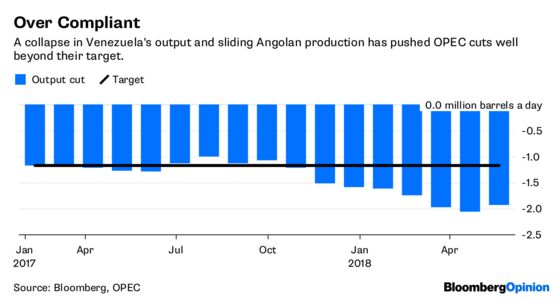 Importantly, the 100 percent compliance target is for the group as a whole, not for individual members. The only way that OPEC as a group can possibly bring compliance with the deal agreed in November 2016 to 100 percent — it was 164 percent as of May, according to OPEC's own figures — is for countries with spare production capacity to pump more oil. These include Saudi Arabia, the U.A.E. and Kuwait.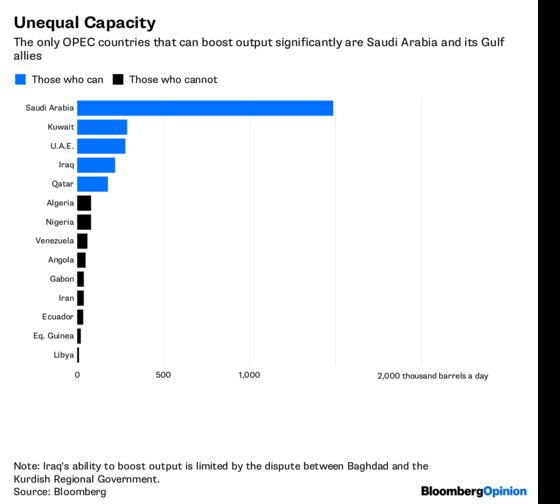 Outside the group, it's just Russia that can raise output quickly. Between them, they can easily produce the extra oil required. And there's no doubt that they will do so. That means an effective redistribution of market share.
Currently among OPEC members, Venezuela is the country whose production is well below the amount allowed under the 2016 agreement. In May, it was pumping 1.43 million barrels a day, according to the secondary sources that OPEC uses to monitor the deal. That compares with the 1.97 million barrels permitted under the agreement.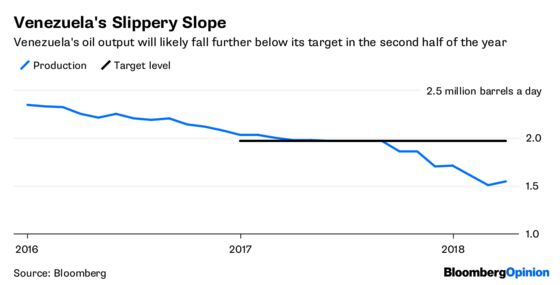 As Trump's sanctions begin to bite in the coming months, Iran's production will also fall — and probably much more so than Venezuela's. U.S. officials have asked Japan to completely halt oil imports from Iran, according to people with knowledge of the matter. That goes much further than the reductions demanded under the Obama administration, which sought cutbacks of around 20 percent every six months.
I have long been of the opinion that the drop in Iranian supply would be much bigger than the 200,000 to 300,000 daily barrels that several analysts have been forecasting. With pressure likely to be exerted on buyers of Iranian crude in Europe and elsewhere in Asia, Iran's output could easily drop by a million barrels a day by the end of the year. President Trump's sanctions on Russian aluminum producer Rusal should serve as a warning to purchasers of Iranian oil. This U.S. leader doesn't care about the disruption that the sanctions will cause to friends or foes alike. 
Returning to Friday's output agreement, the official communique was a classic piece of OPEC-speak — short on figures and something that everyone could claim as a victory.
The performance of the United Arab Emirates' oil minister and OPEC President Suhail Mazrouei was a master class in how to avoid a question. He was repeatedly asked whether countries with spare production capacity — mainly Saudi Arabia — would be able to make up the volumes that others can't produce. And he repeatedly avoided giving a specific answer.
That has allowed Iran's oil minister to leave the meeting claiming that he got exactly what he had always been asking for: 100 percent compliance with the existing agreement. He conveniently forgot that he had quite explicitly said that should be 100 percent compliance with each member's individual target, not a redistribution.
But the outcome is obvious. Market share will be redistributed among OPEC members. By the end of the year we could be looking at the transfer of as much as 1.5 million barrels a day of production from American foes Venezuela and Iran, with most going to U.S. ally Saudi Arabia.