OPEC's Gonna Give It the Old College Try, Folks
(Bloomberg Opinion) -- Here's a thought experiment. Next time someone asks you to do something, tell them you will "strive to adhere" to their wishes and see how they react. My non-scientific guess is it will look something like this: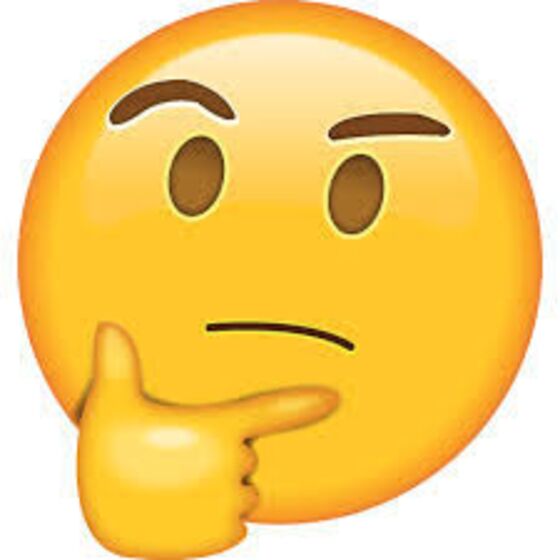 Which is how oil prices reacted to the carefully-worded communique from OPEC on Friday morning; first spiking on news of an agreement and then easing back a little as the specifics were digested.
I use "specifics" loosely. OPEC signaled that its enlarged group (including associates such as Russia) would aim to raise supply. But that commitment extended only as far as trying to do that ("striving"), and with no hard number on how many more barrels would materialize. Despite repeated attempts by reporters to prise an actual figure out them at the press conference, officials doggedly stuck to the line that the Vienna Group would aim to get to 100 percent compliance with the targets agreed in late 2016.
To recap, the group aimed originally to take 1.7 million barrels a day off the market to clear the glut of inventories. That's happened, but due largely to several countries, such as Venezuela, producing far less involuntarily. As it stands, the group says cuts now total roughly a million barrels a day more than planned. In other words, getting back to 100 percent compliance would imply bringing roughly a million barrels a day back onto the market.
Except, as I wrote here, it's not as simple as that, because so many OPEC members can't raise output. Moreover, Iran faces fresh sanctions the U.S. appears to be pursuing very aggressively, which means any increase by fellow members will be a de facto transfer of market share to them , including arch-rival Saudi Arabia. Sensitivities around that offer a further rationale to keep the wording vague (all the better for spinning).
It also means the actual increase in supply could be less than advertised. One million barrels a day, even if fuzzy, is a pleasingly round number that might appease a motley crew including U.S. President Donald Trump, the Kremlin, Iran, and the oil market. But the real supply increase is likely to be less and could be just 600,000 barrels a day.
That difference is very important. Since the start of 2017, when supply cuts began, commercial stocks of oil in the OECD countries — the clearest indicator of the market's buffer — have fallen from 31 days' worth of global demand to about 28 days.  Using projections from the International Energy Agency, that figure would drop to about 27.6 days by the end of 2018 if the Vienna Group's output stayed as it was at the end of May, tightening the market further and raising prices.
But we could well see a lot more OPEC production disappear by the end of the year if sanctions bite Iran and Venezuela keeps spiraling. The chart below tracks a few scenarios: no increase; no increase and a loss of 750,000 barrels a day from Iran and Venezuela; and the Vienna Group offsetting those losses with either an extra 1 million barrels a day or just 600,000.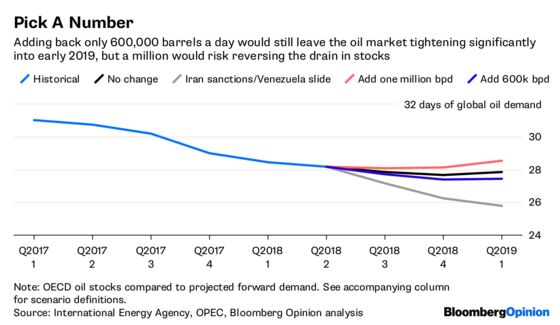 In a perfect storm, with higher Libyan and Nigerian outages and U.S. production growth slowing due to pipeline bottlenecks, inventories could slide even further into 2019, setting up a potential price spike.
While higher prices would bring a near-term windfall for Saudi Arabia and Russia, the cost would be steep, ranging from a likely tweet-rage from Pennsylvania Avenue to demand destruction and serious dissent in OPEC's ranks as Iran and others see fellow members profiting further from their woes. Plus, it would be a gift to non-OPEC supply.
In fudging the outcome of this week's get-together, Saudi Arabia and its cohorts managed to signal extra supply and maintain public cohesion. Equally, the fuzziness underlines the inherent difficulty of trying to steer an increasingly competitive oil market with OPEC's blunt tools and a desire to mask the organization's growing divide.