Dislike! Sustainable Fund Says Dump Facebook
(Bloomberg Opinion) -- No responsible investor should own Facebook Inc. shares, according to the head of sustainable investing at the biggest bank in the Nordic region. That's an unjustifiable overreaction.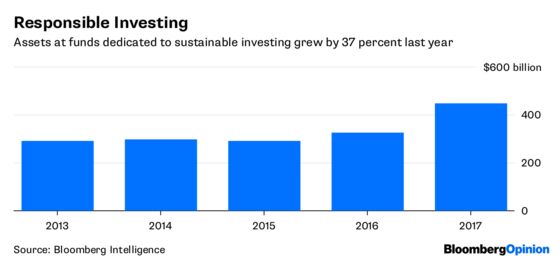 With asset managers under more pressure to take environmental, social and governance issues into account in their investment decisions, the danger of mission creep is growing exponentially. Belik's call to arms is a clear example.
The outrage at Facebook's cavalier attitude to user data is justified. But it's the role of government and regulators, not asset managers, to tame the excesses of modern capitalism.
And that's happening. U.S. senators are pressing Facebook hard on its alleged privacy lapses; European Union lawmakers have asked Sheryl Sandberg, the company's chief operating officer, to attend a hearing in Brussels on July 2.
While the wheels of government justice may indeed turn slowly, they grind exceedingly fine. The purveyors of social media tools can be under no illusion that they need to mend their ways.
As for Nordea, less than 2 percent of its 320 billion euros ($373 billion) of assets are dedicated to sustainable investing — or 6 billion euros. Of that amount, just 0.06 percent was invested in Facebook, Beslik told Bloomberg News in May. So the total stake that Nordea offloaded was in the ballpark of about 3.6 million euros — compared with Facebook's market capitalization of more than $580 billion.
With all due respect, no wonder Beslink got what he called an "unresponsive" response from his efforts to get Facebook to clarify how it was dealing with the aftermath of the Cambridge Analytica affair.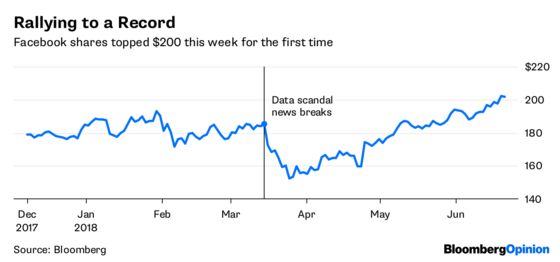 Facebook shares this week surpassed $200 for the first time, marking a gain of more than a third from the $149.02 low they touched at the end of March. While the stock's rally in the wake of the scandal shouldn't be a factor in deciding whether to bar the stock from an ESG portfolio, there's a broader issue that highlights the difficulty of trying to make asset managers the enforcers of social mores.
Facebook may be guilty of playing fast and loose with customer information; but since it was founded in 2004, it's clearly succeeded in its mission to "build community and bring the world closer together."
So how should those competing factors be weighed in terms of their social impact? It's not hard to argue that Facebook has delivered genuine benefits to its users at no charge, in return for them signing away their rights to their data. While the harvesting of data by Cambridge Analytica clearly appears to have exceeded the boundaries of acceptable information sharing, the fact that no-one reads the small print in the disclaimers when they enlist on social media isn't unique to Facebook. 
As the pool of funds dedicated to sustainable investments grows, one of the challenges the nascent industry faces is how to establish a common taxonomy for the different inputs that are used to filter investments.
Few want their pension nest-eggs to prop up the share prices of companies that are deforesting the planet, or funding gun makers, or perpetuating the carbon emissions of the coal industry. But even for investors who've chosen a fund devoted to sustainable investment, I doubt that data breaches, however egregious, would see Facebook winning pariah status.