Wells Fargo Hasn't Learned How to Take Evasive Maneuvers
(Bloomberg Opinion) -- Wells Fargo may finally understand where the potholes are, even if it still doesn't want to let investors know how rocky their wagon ride will be.
Wells Fargo & Co.'s CEO Tim Sloan said last month in a Bloomberg interview that he was worried about commercial real estate. He called it frothy. Sloan isn't the first to warn about commercial real estate lending; the Office of the Comptroller of the Currency raised the red flag on the sector a year ago. Most are worried that high-end condo prices appear to flagging in cities like New York and Miami. But not far behind is all the real estate occupied by the troubled retail sector.
What Sloan didn't make clear, as has been the case with the bank's numerous recent scandals, was just how big the problem is at his own bank. Worse, it appears, at least so far, to have a surprisingly large percentage of the growing bad loans in commercial real estate.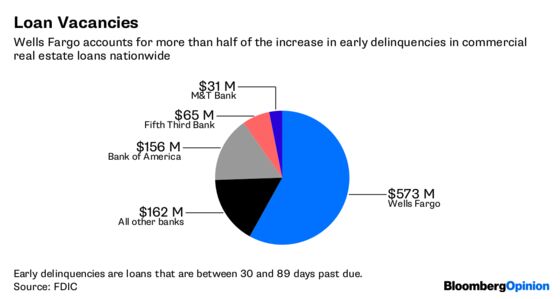 On Thursday, when the Federal Reserve reports the results of the first round of its annual bank stress test, investors will get a better sense of how much of the froth in commercial real estate has landed on Wells Fargo. But earlier this month, BankRegData.com, a firm that collects and monitors bank data from the Federal Deposit Insurance Corp., gave a preview, and indications are the bank has an outsized share. 
For all banks, according to BankRegData's analysis, early delinquencies —  loans that were between a month and three months past due —  by commercial real estate borrowers rose by nearly $1 billion in the past year. It is one of the few categories in which early defaults are up both in the past year and the first quarter. Wells Fargo's share of that increase is $573 million, or 58 percent of the early delinquencies at all banks. Wells Fargo is the largest commercial real estate lender in the country, with about $30 billion more, including construction and development loans, than its next closest rival, JPMorgan Chase & Co. But at $145 billion outstanding, its portfolio still only accounts for 8.5 percent of commercial real estate loans in the U.S., meaning Wells Fargo's size can't explain its outsized jump in delinquencies.
"We are confident in our consistently conservative approach to risk management," the bank said in a statement. "Under the current market conditions, we have made decisions that reflect our credit discipline, and we've been very thoughtful in appropriately scaling back our portfolio in certain areas."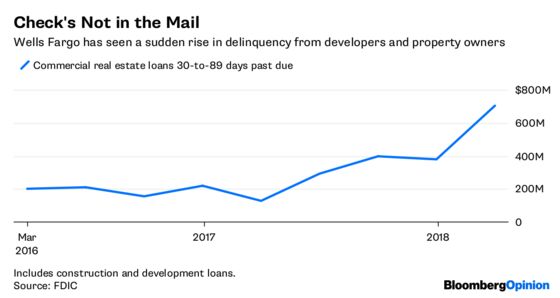 While Wells Fargo declined to comment on specifics, a spokesperson did say that the increase in potential losses was not due to a single loan or one troubled borrower and that the bank was seeing rising defaults in several parts of its commercial loan portfolio. Indeed, the FDIC data showed that defaults went up in every category of commercial real estate in the past year, including owner-occupied and nonowner-occupied commercial real estate, as well as construction loans. Nearly $330 million of the early defaults occurred in the first quarter alone, bringing the total to $702 million.
Rivals didn't experience similar increases. JPMorgan's early defaults in the area fell by $23 million in the past year. Bank of America's commercial real estate early defaults were up $156 million in the past year, including $39 million in the first quarter.
If Sloan's talk of froth is a signal to his bankers to steer the Wells Fargo wagon out of trouble, the evasive maneuvers are pretty slow so far. Commercial real estate loans did shrink in the first quarter, according to Fed data. But the drop was only $1.4 million, or about 1 percent. And Wells Fargo did inch up its reserves in the category to $2.4 billion, or nearly 1.7 percent of the portfolio, which is slightly  higher than its peers, some of which have been going the other direction.
"Even as a number of banks have said they are being more cautious, the big banks are running down their reserves for commercial real estate," said Charles Peabody, a longtime bank analyst at Portales Partners.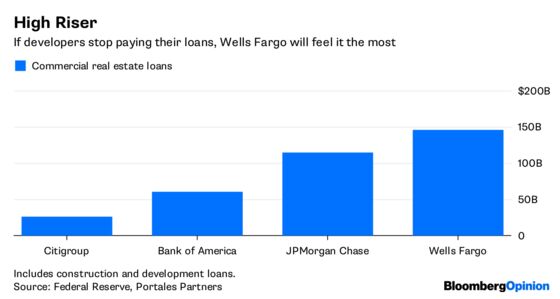 Still, if commercial real estate actually runs into the trouble that some warn it will, it's going to be incredibly difficult for Wells Fargo to avoid it. Last year, in the bank stress test, the Fed estimated that Wells Fargo could have $11.4 billion in losses in its commercial real estate portfolio during two years under a "severely adverse" economic scenario. That's $9 billion more in losses than the bank has put aside in its reserves. 
That should make investors nervous, not just because of the potential losses but also about Sloan's management ability. Once again, Sloan seems to want to paint the bank's problems as something he is aware of and has already been addressed. And once again, that might be overly optimistic.