Donald Trump Is the Perfect Scapegoat for Mercedes
(Bloomberg Opinion) -- German carmakers are a handy whipping boy for Donald Trump. The presence of so many BMW, Mercedes and Audi vehicles on American roads is prima facie evidence that Germany is exploiting the U.S. on trade and must be punished.
The blame game works both ways, though. On Wednesday evening, Mercedes owner Daimler AG warned that its profit would be lower than anticipated this year, citing China's recent decision to impose retaliatory tariffs on cars imported from the U.S.
As with Trump, Daimler is probably being a little bit flexible with its facts.
To be clear, there's no doubt that Mercedes would be affected by those higher tariffs. It exports about 60,000 SUVs every year to China from its Alabama plant, according to a recent Bloomberg Intelligence analysis. Assuming Daimler can't pass on any 25 percent tariff hike to customers, the company would take a hit to profit of about $500 million by my rough calculation. That's close to 3 percent of last year's operating profit.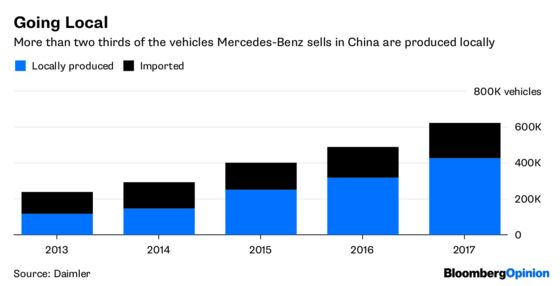 The real impact wouldn't be anywhere near that high, though, because Daimler will either raise prices for Chinese customers or try to sell some of the vehicles elsewhere.
It is odd though that Daimler felt the need to issue a profit warning now. It is by no means certain that China will ultimately penalize American exports. U.S.-China trade relations seem to yo-yo on a daily basis. Plus, Daimler didn't upgrade its profit target when China said last month that it would cut import tariffs from 25 percent to 15 percent from this summer. Mercedes still exports plenty of limousines to China from Europe and its profit should improve somewhat because of that tariff cut.
So what's really going on? Daimler's press release lists several other reasons for the anticipated profit shortfall, including higher costs associated with a new emissions testing procedure, recall costs for diesel vehicles and deteriorating Latin American demand for buses. Recalls are by their nature impossible to predict, but it's not clear why Daimler's budgeting for emissions testing has gone astray so quickly. In fairness, Volkswagen is struggling too with the new, more time-consuming procedure.
Daimler investors weren't expecting profit to increase this year, because of the high spending needed to shift from diesel toward electric vehicles. That's why Daimler shares haven't increased over the past four years, and yield a hefty 6 percent. This profit warning won't help shareholders get more comfortable that it can cope with all the challenges the industry faces.
The German car giant once had a reputation for making inaccurate profit forecasts, but it has done a better job lately. It shouldn't use Trump as an excuse for reverting to bad road habits.