Disco Keeps the Miu Miu Music From Stopping
(Bloomberg Opinion) -- Fancy a spin on the dance floor of the Miu Miu disco?
It's not enough for luxury groups to display their products in stores anymore. Consumers want to interact with the handbags, shoes and lipsticks, and of course take home a selfie.

That's the theory behind two concepts that have touched down in Hong Kong recently: Prada SpA-owned Miu Miu's disco pop-up at department store Lane Crawford and Chanel's Coco Game Center, a beauty and fragrance outlet inspired by retro video and arcade games.
Both may seem like fun, but there's a serious side to the frivolity. Across the board, shoppers want immersive retail experiences. There's even more reason to take this approach in luxury.
Millennials are becoming increasingly important to the industry. According to Bain & Co. and Altagamma, the Italian luxury association, 85 percent of the growth in global sector sales in 2017 was driven by younger customers. They influence the shopping behavior of all age groups. So it's crucial to engage with them.
Younger people aren't discovering high-end goods the way they used to, for example through sunglasses or a fragrance. So having staff shoot a video of a consumer dancing under the neon lighting of the Miu Miu disco – eminently shareable on social media – might be just the thing to encourage them to embrace the brand in other ways. Prada says that more than 50 percent of sales at its temporary pop-up outlets over the past 12 months have been to new customers.
At the Coco Game Center, meanwhile, which finished its run in Hong Kong on Monday, visitors could try maneuvering a metal hook to pick up some Chanel swag contained in a plastic bubble, one of a number of attractions based on classic arcade games.
Millennials' spending power will only increase as they mature, so including them now, rather than scaring them away with imposing flagship stores, should pay dividends in the future.
Given this age group's affinity with online technology, they're likely to tap into such channels when buying. It's little wonder then that luxury groups are beefing up their digital capabilities. Prada for one has been lagging when it comes to selling via the internet. That it's experimenting with social media and online-friendly concepts is encouraging.
Luxury has been on a tear for the past two years, but the bling boom could start to fade in 2018. Much of the demand has been driven by Chinese consumers, who have regained their appetite for Gucci shoes and Rolex watches after the anti-corruption crackdown and stock-market gyrations of three years ago.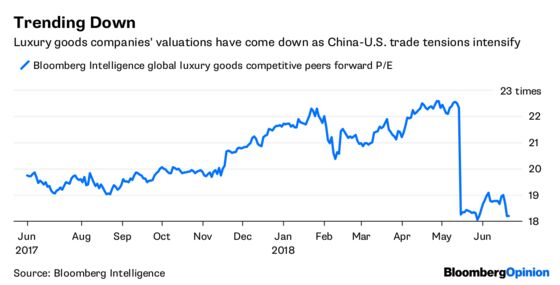 If trade tensions take a toll on Chinese consumer confidence or put a brake on the country's economic growth, its shoppers might start to rein in spending once more. Confidence, which correlates to luxury sales growth, has already plateaued, says Luca Solca, analyst at Exane BNP Paribas.
That could be particularly damaging: Chinese consumers accounted for 32 percent of the global luxury market in 2017, according to Bain.
The odds of landing some Chanel goodies with that metal claw might be pretty low. However keen they may be to hook millennial customers and win online, luxury companies are alert to the threat of a slowdown and leaving less to fate.