Private Equity in Japan Needs Some Shake, Rattle and Roll
(Bloomberg Opinion) -- Few private equity markets are as highly contested as Japan. With funds' cash levels, or dry powder, at record highs, assets are being bid up to heady levels by firms keen to put those big checks to use.
But buyers had better be prepared to do battle if they're to justify those prices.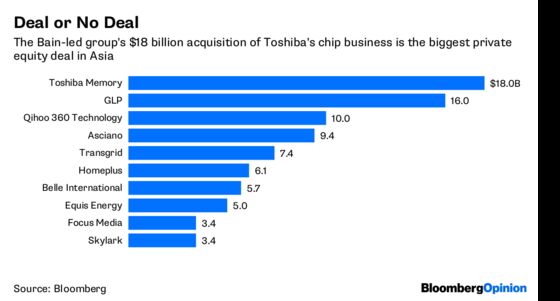 There are several reasons why deals as large as the one for Toshiba Corp.'s former memory chip business, led by Bain Capital LP, are getting done. Japan's negative interest rate policy means capital is cheap, Prime Minister Shinzo Abe is urging corporate governance reform, and companies both small and large are under pressure from shareholders to jettison nonperforming or non-core assets. 
Succession issues are also coming to the fore. Aging Japan needs new blood to take over. Little wonder the world's private equity giants, from KKR & Co. to Bain and Carlyle Group LP, are champing at the bit. Domestic players, too, want some of the action, with Japan Post Holdings Co.'s banking and insurance units in January establishing a company to invest in buyouts and ventures with promising technologies.
But having the cash is only half the battle. In a low-growth economy like Japan, private equity investors can't just buy into the hottest AI or healthcare startup and hope for the best, as they would in China. They'll have to be more proactive than that.
Fortunately, Japan's companies are in need of a shake-up. Calcified hierarchical structures need to be broken down and technologies, which in some cases are five to 10 years behind the U.S., need to be improved, according to Bain's Naofumi Nishi, who spoke Wednesday at AVCJ's Private Equity & Venture Forum in Tokyo.
That's not a challenge every investor will be up for. Your average chief technology officer at most Western firms is a mid-tier executive, if that. In Japan, they're even lower down the ladder and so calls to overhaul legacy systems may go unheeded.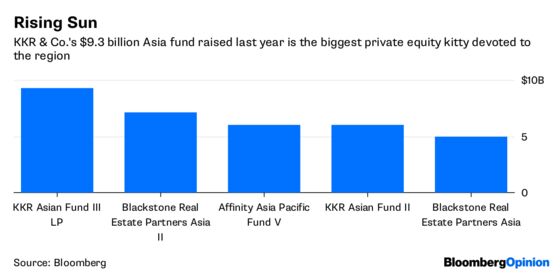 Language can also be a barrier: Fewer Japanese executives are fluent in English than, say, those in China, which makes going global, even with private equity help, that much harder.
The biggest roadblock of all, though, is talent. Japan's labor market is tight and, as Kevin Anderson, State Street Global Advisors' head of investments for Asia Pacific, notes, its economy is "running out of spare workers." For every 100 job seekers, there are 159 vacancies, and unemployment is at an almost 25-year low.
That lack of staff is even more pronounced at the pointy end, and risk-taking types are in the minority. Japan Post Investment Corp. CEO Tokihiko Shimizu told a (mostly male) audience Wednesday that while his firm employs more than 30 people, it's on the lookout for more.
Private equity in Japan needs to keep pushing. While no one's saying funds should reclaim their reputation as vultures, the softly, softly approach just won't cut it.