Disney's Fox Bid Is Aggressive, But Not Punchy Enough
Bloomberg
Opinion
(Bloomberg Opinion) -- Walt Disney Co.'s sweetened $71 billion deal to buy most of Rupert Murdoch's 21st Century Fox Inc. is aggressive, but it may not be aggressive enough to end the bidding here.
The entertainment giant had to raise its offer to see off interloper Comcast Corp., and it's put together a bid that beats Comcast's by every measure. Disney's deal is worth $38 a share, against the cable and media company's $35 per share for the same portfolio. 
Having previously agreed on a transaction with Fox at roughly $28 per share back in December, Disney has enjoyed a head start on Comcast in commencing the regulatory progress. And Comcast's status as both a content provider and distributor creates some uncertainty about its path to approval. That remains despite last week's court ruling allowing AT&T Inc. to go ahead with its takeover of Time Warner Inc.
Disney's offer is half-cash, half-stock, with Fox shareholders being given the chance to elect their preferred mix. For Murdoch, that preserves the option of staying invested and avoiding a tax bill.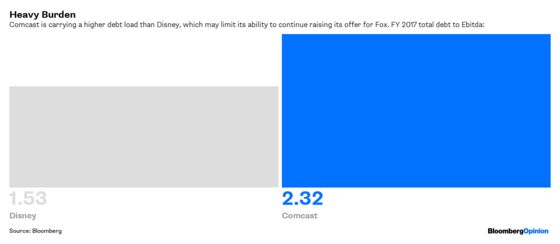 To justify the increase there are no new synergies. Disney notes that U.S. tax cuts and Fox's recent operating performance justify paying more, but those factors don't cancel out the sweetener. The S&P 500 Index of U.S. stocks is up about 4 percent since the original deal. The new offer is a real increase. But if Disney CEO Bob Iger's move was expected, the course from here is harder to predict.
Is this a knockout? The positive reaction of shares in Sky Plc suggests some investors think so. The U.K. satellite broadcaster is subject to competing bids from Fox and Comcast. Its stock has been under pressure since Comcast's own ambition to buy most of Fox emerged. The fear is that a deal between the two rivals would kill the auction for the British group. One interpretation of the 3 percent jump in Sky on Wednesday is that investors expect Disney to nab Fox, leaving it and Comcast fighting over Sky.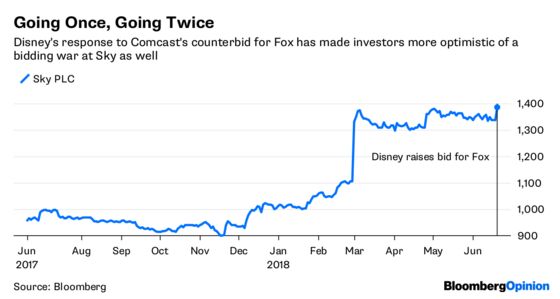 Perhaps. Comcast's main constraints are leverage and CEO Brian Roberts's ambition. To meaningfully beat Disney, given the tax benefits of the stock component, would mean going to at least $40 a share. At this level, Comcast's net debt at the end of 2019 would be 4.5 times Ebitda, according to analysts at BTIG. Factor in the cost synergies and that falls to 4.3 times. Assume same-sized revenue synergies and leverage falls to 4 times, BTIG reckons. This is no higher than where Comcast saw leverage under its $35 offer before synergy benefits.
Disney has an agreement with Murdoch. It has the highest bid. It is ahead on regulatory planning. But Roberts has the will and a tolerance for leverage. This battle may be far from over.