Building a Billion-Pound Brexit Cushion
(Bloomberg Opinion) -- When your business is selling houses and fewer people are moving home, don't be surprised if shareholders get just a little jumpy.
The number of transactions in London has slowed by about a fifth over the past two years as Brexit, changes to property taxes and the increasing unaffordability of property deter buyers.
For Berkeley Group Holdings Plc, a developer which mostly operates in London and England's pricey southeast, the sagging market is unhelpful — but unlikely to be disastrous. Investors have long been aware its juicy returns wouldn't continue and the homebuilder's balance sheet looks in good shape to weather a rougher patch.
On Wednesday, the company said that profit has probably peaked and warned that pretax for the next fiscal year will be about 30 percent lower. The shares fell as much as 5 percent.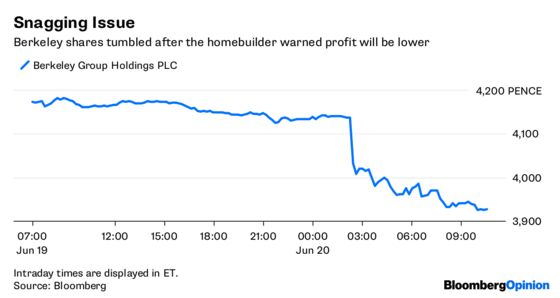 That looks bad — but the stock isn't far off a record high and that profit drop is more a reflection of just how good conditions have been lately, for Berkeley at least.
The company generated a 32 percent return on equity in the year that through April thanks to the cheap land it acquired in the wake of the 2008 crisis and its ability to sell finished homes at an average price of more than 700,000 pounds ($920,000).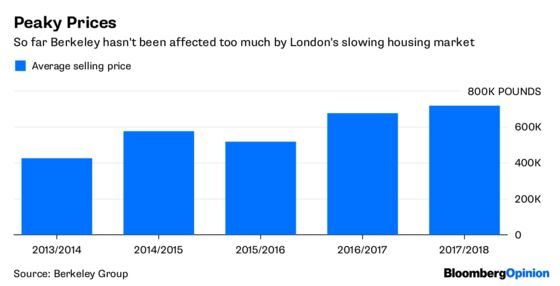 Like other U.K. homebuilders that have profited from Britain's house price boom, Berkeley is still busy returning big dollops of cash to shareholders. Yet even after handing back more than a quarter of a billion pounds over the past 12 months, Berkeley's cash balance swelled to almost 1 billion pounds.
To some investors that hoard might look inefficient, and to government officials hoping homebuilders will invest in new housing it probably looks obscene. But Berkeley says it wants an extra buffer due to "macro uncertainty." It's not hard to see why.
House prices have started to decline in the capital, albeit modestly, and one must assume this will eventually bite Berkeley. Britain's exit from the European Union will probably make it more difficult to hire construction workers — more than half the labor on a London building site comes from the EU, Berkeley notes. And the weaker pound has pushed up the cost of building materials sourced from abroad (although that's offset somewhat by U.K. homes becoming cheaper for foreign buyers).
With a target to return 2 pounds annually to shareholders, the shares yield about 5 percent, which seems a fair reflection of risk and potential rewards.
The trouble is, if builders limit supply and some quit the capital altogether — Crest Nicholson Holdings Plc said this week it plans to shift resources away from central London — the city will get no nearer to fixing its dearth of affordable housing. As ever, what's good for homebuilders isn't necessarily good for homebuyers.