GE's Dow Eviction Is a Form of Intervention
(Bloomberg Opinion) -- John Flannery has one less reason to keep General Electric Co. together.
The 126-year-old company and last original member of the Dow Jones Industrial Average was dropped from the index on Tuesday and will be replaced with drugstore chain Walgreens Boots Alliance Inc. GE's place on the benchmark index had been an open question for some time now as as a drumbeat of earnings disappointments and poor capital-allocation decisions battered its stock and left it with a cash crunch that's put its dividend in jeopardy yet again. But even after everything GE has been through, the booting from the benchmark has to sting.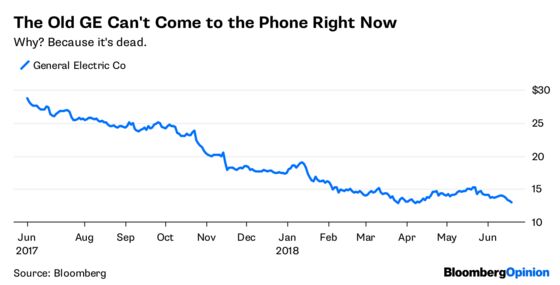 It's particularly painful that GE was replaced not by a technology upstart like Facebook Inc., as some had speculated, but by a staid company founded in 1901, just nine years after itself. I mean, no offense, but Walgreens, really? The ultimate relevance of a company's inclusion in the Dow to its stock price is debatable, but the symbolism is palpable. The GE of old -- that embodiment of American industry and managerial know-how -- arguably died a while ago, but this decision puts the nail in the coffin.
In a way, that should be kind of freeing for Flannery as he contemplates GE's future and the appropriate structure for its myriad businesses. I've wondered before whether he might be held back by GE's historical identity and the inherent difficulties of reshaping an institution that molded him over a more than 30-year career. I don't think it's a good thing that GE was dropped from the Dow, but it's one less shackle to the past that might discourage Flannery from undertaking a complete top-to-down rethinking of its identity. That's really what this company needs. Part of the reason GE is in this mess is that it was allowed to rest for far too long on past laurels.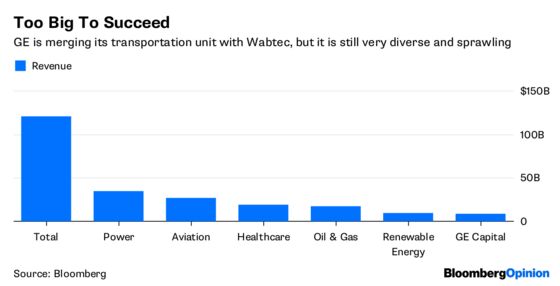 Flannery has announced some asset divestitures, the biggest of which is an agreement to merge GE's transportation unit with Wabtec Corp. at an $11 billion valuation. But he's going to have to come up with bigger moves to raise cash and fend off a credit-rating downgrade. The CEO now has a cleaner path to do something radical, including a full-blown breakup that would see GE's main businesses stand alone. There really is little reason for them to stand together anymore.
The timing of the Dow decision strikes me as interesting. GE shares had fallen for five straight days, extending its decline over the past year to 55 percent. It had become a mere rounding error on the Dow, which is a price-weighted index. But changes to the membership list are made via a committee, rather than a rules-based process, and some GE watchers felt that the committee would give the company the benefit of time to sort itself out given its historical significance. It looks like the committee, like many investors, got tired of waiting.