$21 Billion Shows Two Bond Markets Aren't Equal
(Bloomberg Opinion) -- Bayer AG is finding it harder to sell debt in its home country than in the U.S., a telling sign of the respective health of the euro and dollar credit markets. The German chemical giant wanted to complete the financing for its $63 billion acquisition of Monsanto Co. — but it had to pay up to do that in Europe.
Monday's successful $15 billion offering in the U.S. generated $50 billion of orders. Once the new issue premium — the extra yield investors are offered to buy the new securities over existing ones of a comparable maturity — was reduced by the underwriters, the bonds were eventually priced close to where Bayer's existing bonds are trading. That's an impressive sign of demand for a company hadn't sold senior unsecured investment-grade debt for three years.
Tuesday's 5 billion-euro ($5.8 billion) reprise wasn't such a breeze. Bayer had to offer would-be buyers a much larger new issue premium. Even through the spreads on the euro deal were tightened by 20 basis points during the offering, the company still had to pay about 30 basis points more than its existing debt.
The longest-dated bond in the European offering had a maturity of 11.5 years — unlike the U.S. sale, which included both a 20- and 30-year bond. There's simply less demand from in Europe for longer-dated debt: Investors don't want to lock in such low yields for such a long time.
As Bayer is issuing the euro bonds through a holding company in the Netherlands, they will be eligible for the European Central Bank's corporate bond-buying program. That ought to be a big positive, because investors know there will be a guaranteed cornerstone bid. It is because of the ECB's purchases that the additional yield all investment grade corporate bonds offer over government bonds is about 55 basis points — half the dollar average.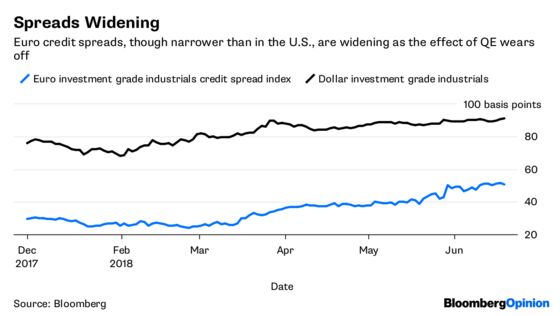 Bayer's travails suggest that the allure of the QE is waning, and investors now need more incentive to commit to even a rock-solid credit. It's no surprise that the value of bonds sold by companies in euros this year has fallen 30 percent to 133 billion euros.
The takeaway? Companies wanting to sell bonds in Europe scale will need to offer a bigger yield to investors. With several offerings to finance recent M&A, the action in corporate credit markets looks set to be in the U.S.