In China, Baijiu and HPV Vaccines Have Something in Common
(Bloomberg Opinion) -- At first blush, HPV vaccines and Chinese rice wine don't have much in common. But there are striking similarities between baijiu distiller Kweichow Moutai Co. and Chongqing Zhifei Biological Products Co.
For a start, shares in both have been on a tear. Kweichow Moutai is up 65 percent over the past 12 months, while Zhifei Biological, Merck & Co.'s exclusive sales agent in China, has risen 135 percent.
That's no small achievement, considering the CSI 300 Index is down 6.9 percent this year and up only 5.6 percent since last June.
Granted, Zhifei Biological is riding a policy tailwind. The China Food and Drug Administration has accelerated approvals for new vaccines: While Merck's Gardasil, which protects against four strains of human papilloma virus, took 1,421 days to get the nod, Gardasil 9, which protects against nine types of HPV, got the regulatory stamp from Beijing in just eight days.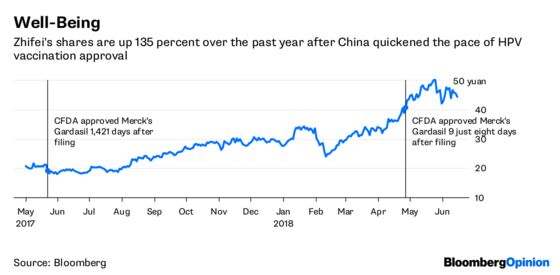 Zhifei Biological is also tapping into a new and growing market. While close to 30,000 women die from cervical cancer in China every year, globally, about 39,800 fresh cases of cancer are found in parts of the body where HPV can also often be found, including the back of the throat and rectum.
But vast demand alone doesn't guarantee profitability, or success. What Zhifei Biological and Kweichow Moutai also have in common is a moat.
Merck has the HPV vaccine market cornered. The U.S. Food and Drug Administration has only approved three HPV vaccines, and two of them are produced by Merck. The third, GlaxoSmithKline Plc's Cervarix, only protects against two strains of the virus, and is considered inferior.
There's also a shortage of HPV vaccines in China after the government implemented an "approval by batch" system to ensure the quality of each lot. In the fourth quarter, Zhifei Biological received approval to sell just 340,000 units of Gardasil (which partly helps explain why neighboring Hong Kong has a huge vaccine shortage.)
As a result, Zhifei Biological can charge handsome prices. While Gardasil vaccinations cost around 2,400 yuan ($370), Gardasil 9, which requires three shots, costs at least 1,298 yuan per jab. Merck's vaccines will account for two-thirds of Zhifei Biological's sales this year, versus 20 percent in 2017, Nomura Holdings Inc. predicts.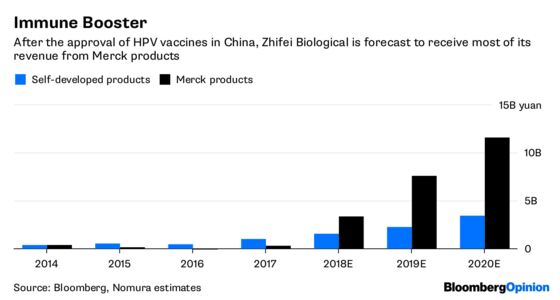 Kweichow Moutai also has a supply deficit. Its base liquor is made once every 12 months and then aged for four years. After President Xi Jinping's 2013 anti-corruption drive, management slashed base-liquor production, leaving millions of consumers today thirsty for a dwindling stockpile.
Since moats are rare, they don't come cheap. Zhifei Biological trades at a steep 56 times 2018 earnings, mostly because of its exclusive relationship with Merck.
But investors should beware. In Kweichow Moutai's case, local authorities may send in the taxman, crimping earnings. For Zhifei Biological, there's a risk Chairman Jiang Rensheng and former Vice Chairman Wu Guanjiang, who own more than two-thirds of the company, may sell out.
That really would be a painful development.