Bayer's Bond Puts the Fed in Its Place
(Bloomberg Opinion) -- German chemical giant Bayer AG has finally launched one of the biggest corporate bond sales of the year. This is an important test of the health of the market, given the Federal Reserve's move last week to raise rates and stoke expectations for additional tightening.
Such hawkishness could normally be taken as a signal for the beginning of the end for credit, but actually, this jumbo offering shows the market is in decent shape. 
The company will raise about $15 billion in eight tranches of dollar debt ranging from three to 30 years in a sale that could complete as soon as Monday, and a four-tranche euro deal for up to 5 billion euros ($5.8 billion) could follow on Tuesday. The proceeds will repay a leveraged loan arranged for the company's $63 billion takeover of Monsanto Co. 
The bond sale has been a long time coming. The regulatory process took two years, and this fund raising was well planned, with an extensive roadshow. Everyone has seen this coming.
Initial new issue premia on the whole look pretty reasonable. A new five and a half year dollar note will come at a spread of around 130 basis points more than comparable Treasuries. An existing Bayer note of the same maturity now trades at 127 basis points more than government debt. The new security is not cheap, but given how much the market has moved in recent weeks neither is it overpriced. For a new 30-year, the 205 basis-point spread on offer is both chunkier and logical, not least because it's a rare senior issue for the company at that maturity.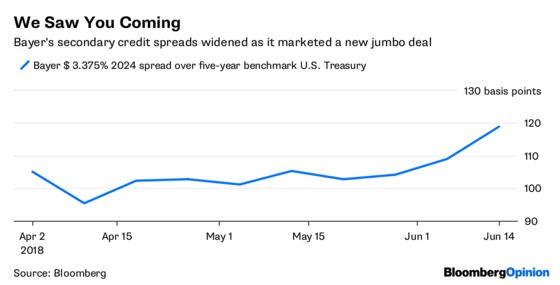 So demand should be strong – there are already $30 billion of orders, according to Bond Radar. There has been a relative lack of investment grade corporate issuance lately, and spreads are wider than earlier in the year. Given the issuer is an extremely well-known company that is offering a bit of extra yield, what's not to love for an investor? It's nice that, for once, they're not paying the tightest spreads on record.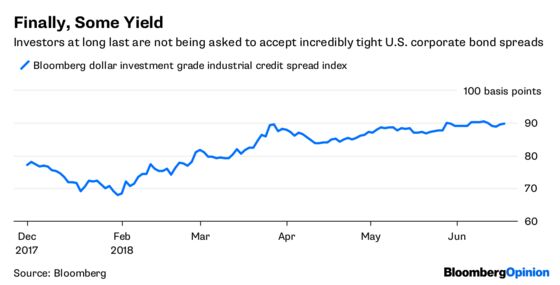 There's a question about how much of the issue will wind up in bond indexes as the securities won't have a global SEC registration, but it's hard to see this becoming a substantial barrier to the company raising all the money that it's after. 
Bayer is a relatively rare issuer for its corporate size, having not issued in dollars or euros since 2015. For investors the diversification and liquidity of the new securities should soften the blow of recent downgrades from S&P Global Ratings and Moody's Investors Service. S&P cut Bayer two notches to BBB because of raised leverage to complete the buyout, Moody's lowered its grade one notch to Baa1. But this bad news came out earlier this month, so the market has had time to adjust.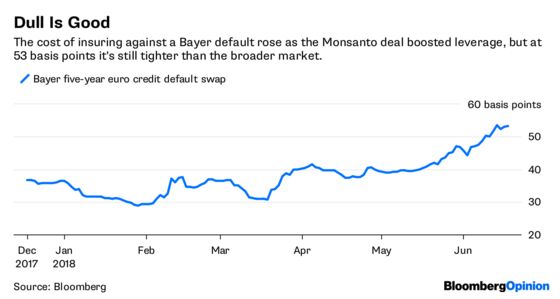 This all bodes well for the massive deal that's in the pipeline from AT&T Inc. to pay for Time Warner, and other would-be issuers. The model of arranging a corporate transaction with leveraged finance from banks that's later replaced by longer-term borrowing from bond investors is alive and well – despite how aggressive the Fed has become.