Gary Cohn Not Crying Wolf on Trade in Investors' Eyes
(Bloomberg Opinion) -- Gary Cohn, former Goldman Sachs executive and White House economic official, thinks tariffs and trade disputes could wipe out all of the gains of the tax cuts. That sounds like a dire and extreme prediction, considering that the tax cuts are expected to boost the economy by roughly $2 trillion over the next decade.
But it appears that investors are quickly coming to the same conclusion as Cohn about the dangers of an all-out trade war. 
The latest evidence came Friday. Stocks fell, with the Dow Jones Industrial Average down more than 200 points, on news that President Donald Trump was exacerbating trade tensions with China by announcing tariffs on $50 billion in Chinese imports. The administration also said it was drawing up a list that would cover an additional $100 billion in goods if China retaliates, which it did in short order.
Measuring investors' estimates of the damage that tariffs, and potentially a trade war, would do to the economy, or at least the nation's largest companies, isn't easy. The S&P 500 Index was trading around 2,700 in late February, soon before Trump set the tariff train in motion, first against steel and aluminum imports and now Chinese goods. The market is actually up since then, with the S&P 500, even after Friday's morning sell-off, up nearly 4 percent this year. But corporate profits are also up since then, which could explain the rise.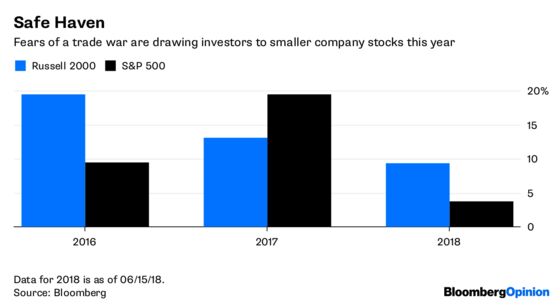 One way to measure the impact of tariffs on stocks is to look at the difference between the valuation of small-capitalization stocks and those of the biggest companies in the market. Small caps have surged 9.4 percent this year, as measured by the Russell 2000 —  more than double the gain of the large companies — in large part because of the belief that smaller companies derive their revenue domestically and thus will be less impacted by the trade conflict. The thinking seems mostly correct, though if tariffs spur inflation, higher prices would affect small businesses as well. Still, looking at where small-cap stocks are trading now can provide a rough idea of where large companies stocks would be without the trade tension.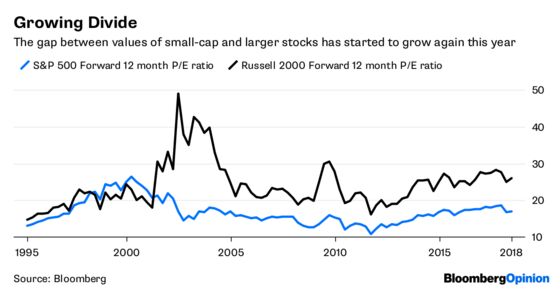 Small-cap stocks are trading at an average of nearly 26 times their expected earnings during the next year. Large-company stocks, as measured by the S&P 500, sit at a lower 17 times. But small-cap stocks tend to be more expensive relative to earnings than large ones because of higher expected growth rates. Go back to 1995, and the ratio of the price-to-earnings ratio of small caps to large caps has been on average 1.46, according to Bloomberg data, meaning the stocks of small-cap companies typically trade at a 46 percent premium to those of large companies. The ratio is 1.53 now, or 4 percent higher than average. Call that the tariff discount, and the threat of a trade war seems to be knocking about $1 trillion in market value collectively off the largest U.S. companies.
Cohn's estimate of $2 trillion might sound too large and therefore easy to dismiss. But the U.S. economy and large public companies in general have come to rely on foreign markets, even with the tax cut boost. Cohn may be overshooting a bit, but investors don't think he is that far off, at least for now.