Citigroup Outpaces Its Rivals in the Game of Risk
(Bloomberg Opinion) -- When it comes to risky trading, Citigroup Inc. may have a reason to protest too much.
At an analysts' conference on Wednesday, Citigroup CFO John Gerspach was asked about a recent proposed change to the Volcker Rule — the Dodd-Frank regulation that limits banks' ability to make market bets with their own capital. Gerspach said the change wouldn't matter much to Citi, adding, "Proprietary trading is not part of our strategy going forward."
That's a good thing, but it's unclear why Gerspach would have to attest to that. The proposed changes don't alter the status of prop trading at the big banks. It's still prohibited, at least by the letter of the law. The changes will make it easier for banks to comply with Volcker by reducing reporting requirements and giving them some room on short-term trades for market-making or hedging purposes.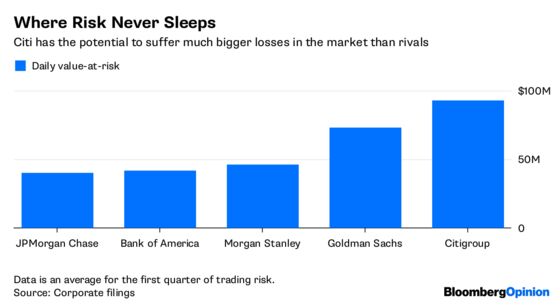 But Gerspach's comments may distract investors from the true issue at Citi. The bank's trading operations have been getting riskier lately and are considerably riskier than those of its rivals. And regardless of what type of trading the risk comes from, the net result could be the same if the markets were to turn.
As of right now, potential losses look as if they could be considerably bigger at Citi than at its rivals, in some cases more than twice as large. Citi's value-at-risk, a measure of how much money it could lose in its trading book on any given day, averaged $93 million in the first quarter. That compares with an average of just more than $50 million at its rivals. JPMorgan Chase & Co.'s VaR during the quarter was $40 million. Goldman Sachs Group Inc., which has a reputation for being the most active trader among the big banks, was the next highest after Citi, but still considerably lower at $73 million.
The bank doesn't see any problem. "Citi prudently manages our risk using a robust and independent risk management structure," it said in a statement. "Our strategy is focused on a target set of clients, and we operate within clear, monitored risk parameters."
Within those parameters, it appears that Citi's activity in the bond market —  $117 million on average a day compared with $30 million at JPMorgan, for example — is a chief driver of its risk. (Diversification brings the overall VaR number down.) But Citi is taking more risk in pretty much every area of trading than its rivals, including stocks. And Citi is taking on more risk even compared with rivals that have larger trading books, which total $268 billion at Citi compared with $412 billion at JPMorgan and $463 billion at Bank of America.
Market risk-weighted assets, another way banks report how much risk their trading desks are taking on, also rose more at Citi than at Bank of America and JPMorgan in the first quarter, though the jump was not as stark as the difference between their VaR measurements.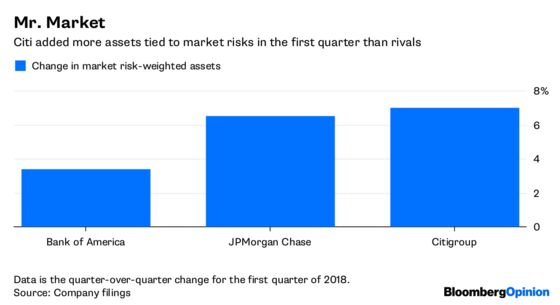 Within businesses, it's not clear why Citi's VaR is so much higher than rivals. But the bank seems to notice that its number is outsized. Its most recent annual financial filing notes that VaR calculations can differ from bank to bank. "There is no standard formula for the calculation of VaR, therefore comparing VaR across banks is misguided," the bank said in its statement. "Citi's trading businesses support client activity; to the extent there are fluctuations in our VaR, it is a direct result of client demand."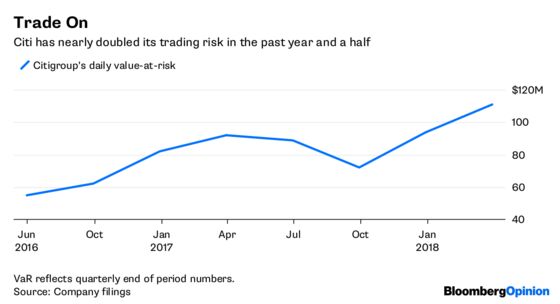 But even just looking at Citi, risk is on the rise. Citi's VaR was $111 million at the end of the first quarter, up from $94 million in the final three months of 2017, and $86 million a year ago, which means even measured against itself, Citi is taking on more risk. And at least twice in the fourth quarter of 2017, daily trading losses neared $50 million.
So it appears as if Citi is geared to take on more risk, regardless of how much regulators tinker with the rules.