Go Ahead, Give the Media Merger Wheel Another Spin
(Bloomberg Opinion) -- AT&T Inc., a company tied to the invention of the telephone, is buying its way into Hollywood. Comcast Corp., one of the most powerful names in cable, internet services and TV programming, is daring to get even bigger. And Walt Disney Co. is working toward its largest deal ever—because even the Magic Kingdom itself is being forced to defend its throne against an $11 app by the name of Netflix. Welcome to media in 2018. It's a doozy. 
If you remember the Media Merger Wheel, we thought it was an appropriate time to refresh our map of the startling overtures and tie-ups that we could see among the leaders in media, tech and more in a post-AT&T-Time Warner world. Introducing the Merger Wheel 2.0, courtesy of Bloomberg Opinion's Elaine He. Give it spin: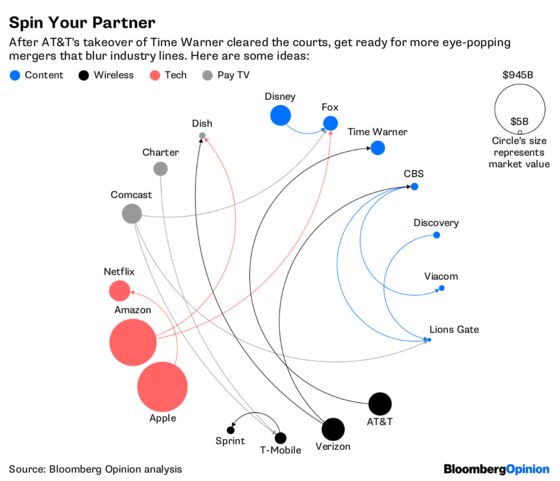 The media deals may start moving as fast as Netflix Inc.'s market cap, which you know is pretty fast because it recently 
eclipsed that of Disney and Comcast
 in a symbolic statement about the industry. Alongside Netflix's rising popularity is 
the decline
of TV advertising, while the tech giants use their immense data to swarm digital ad dollars. All this is driving negotiations—or soon will—between worried companies that most never imagined would or even could merge with one another. With the U.S. Justice Department unable to convince a judge that AT&T's $109 billion acquisition of Time Warner Inc. would unfairly tip the scales, other buyers have reason to 
seize the moment
 and see how far they can push the antitrust bounds.
Already, Disney and Comcast are vying for some $60 billion worth of cable networks and other assets that Rupert Murdoch is carving out of 21st Century Fox Inc. That he's selling them is a bold statement itself. Even more intriguing is that, as the Wall Street Journal reported, Comcast and Amazon had explored splitting up Fox's assets among themselves, with Amazon taking the U.S. properties and Comcast taking the rest. Their little Survivor-esque alliance didn't work out, but it tells us Amazon is sniffing around. (Shira Ovide says the tech heavyweights should stick to building their own entertainment assets rather than buying them.)
What's also telling about the chart above is how much the tech companies dwarf the legacy media ones in size (the circles represent market values). That alone explains the urge to merge.
But as you can see, there are many permutations of possible transactions. We'll just have to wait to find out who's ready to go for a spin next.