$1.5 Trillion Says: Eat What You Kill
(Bloomberg Opinion) -- With 160 trillion yen ($1.5 trillion) to invest, Japan's Government Pension Investment Fund has an awful lot of clout. Its latest innovation is to oblige many of the outside firms that manage its money to eat what they kill rather than enjoy a free lunch from simply gathering assets. And where the world's biggest pension fund leads, the rest of the money-management industry looks bound to follow.
The pension fund says it doesn't need active managers to fulfill its obligations. "GPIF is basically able to meet its investment targets for pension funding through passive management alone," it says. So the only reason to employ active managers, who currently oversee about 20 percent of the fund's assets, is if they can effectively guarantee to deliver better returns than an index tracker.
As an incentive to generate that alpha, there'll be no limit on how much a manager can earn by outperforming. That's a groundbreaking development. But, at the same time, the base fee active managers get for looking after some of the pension fund's assets will be cut to the "extremely low" level that GPIF, thanks to its sheer size, is able to squeeze from its passive portfolio.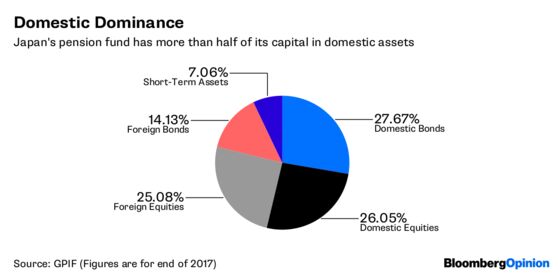 Shifting to the new structure is the pension fund's attempt to address a problem that's plagued fund management for years: fund managers are rewarded for simply gathering assets rather than making returns. GPIF says that the old model gave firms "little incentive to set target excess return rates appropriately, to be innovative in seeking excess returns, and to control their management capacity." Only a handful of the external firms given money by the fund beat their targets.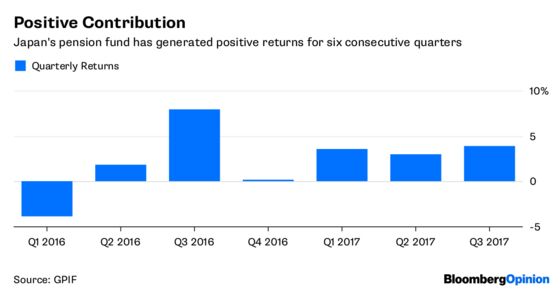 In an effort to align strategies with its long-term outlook, the fund will split performance-based fee payments, with 45 percent paid in the year they were earned and 55 percent delayed to the following year. And to avoid the short-termism that asset managers complain undermines performance when an investor withdraws cash after a short run of bad results, the pension fund is signing what it calls "multi-year contracts" with some of its chosen managers. It didn't specify how long those mandates will run for.
The fund, rightly, recognizes that its plan will have a big impact on the wider industry. GPF says it sees active managers playing an important role in the "day-to-day effort to improve market efficiency," which it says helps to augment the potential performance of its passive strategies. That's a sensible approach to the active-versus-passive debate, which can too often deteriorate into scaremongering.
Allowing asset managers to share in both the upside and the downside of their alleged investment expertise gives them more skin in the game. It should lead to some much-needed Darwinism, where only the fittest survive — and the fund management world will be healthier as a result.