Clearing Short Sellers Out of Casino Is Tough
(Bloomberg Opinion) -- Casino Guichard-Perrachon SA has won a battle. It is far too soon to declare total victory.
The French grocer said late Monday it plans to sell 1.5 billion euros ($1.8 billion) of assets. The disposals will help it cut net debt in France by about 1 billion euros by the end of 2018, with the potential for further reductions next year. Casino also reiterated its target of organic growth in trading profit of more than 10 percent, excluding tax credits in Brazil, and said it should be able to deliver a similar performance in 2019 and 2020.
The announcement is a good start toward answering charges from activist investors and financial analysts in recent months that its corporate structure is too complex and it is too highly levered. The improved performance is also welcome. The company has even highlighted the possibility of a share buyback.  
High debt levels accompanied by opaque, closely held ownership structures have been catnip to short sellers, so its no wonder that Casino had found itself in the firing line again, having fallen victim to an attack from Muddy Waters two years ago. Altice, billionaire Patrick Drahi's vehicle, last year had to promise investors better communication and asset sales after bearish bets on his French telecoms business piled up and pummeled its share price.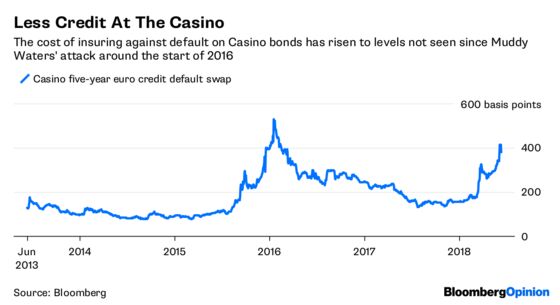 The latest complaints about Casino, including from Diameter Capital Partners, had sent the company's shares down about 20 percent in the month prior to Monday's announcement. The stock initially rose as much as 9.6 percent on Tuesday, but by early afternoon was up only 1.8 percent. Investors are right not to be too enthusiastic.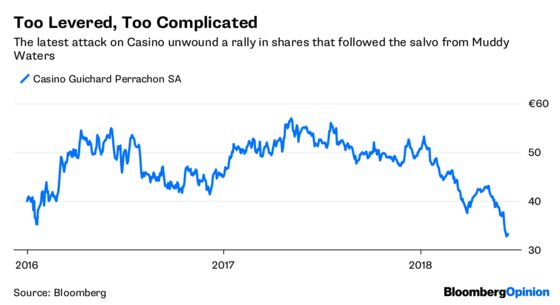 Even with the disposals, Casino and its parent, Rallye SA, will remain highly leveraged. Casino's net debt was 5.3 billion euros at the end of 2017, amounting to 41 percent of equity, according to Bloomberg data. Rallye had 11.7 billion euros of net debt, or 104 percent of equity.
Their balance sheets won't be helped by the prospect that the new plan is likely to involve sale and leaseback deals on stores, which could drive rental payments higher. It is worth noting that British supermarkets Tesco Plc and J Sainsbury Plc are going the opposite way: increasing the proportion of their portfolios that are freehold in order to contain future rent increases.
The company will also continue to have the complex structure that involves Rallye holding a 51.1 percent share, and relying on dividends from Casino to service its own debt obligations.
The company has a long way to go to fully address both of these problems. But there's a third issue on the horizon.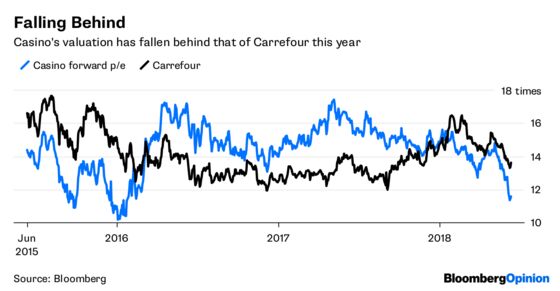 Although Casino is upbeat on the profit outlook in the French grocery market, the environment nevertheless remains challenging, and could become even more so if Carrefour SA's turnaround plan starts to bear fruit. Its rival on Monday announced a tie-up with Alphabet Inc.'s Google to sell its food through the internet giant's platforms.
Given these headwinds, Casino must execute the disposal plan seamlessly. It would also be wise to use any additional proceeds from the asset sales in 2019 to continue to pay down debt, rather than return cash to shareholders. The attention of short sellers can be hard to shake off, and the company needs to concentrate on building enough firepower to defend itself from the next onslaught.