Amazon Is Still Sorting Out Its Grocery Strategy
The outlandish hopes weren't Amazon's doing, but so much — too much — was expected of Amazon to transform the grocery shopping experience. What's perhaps most surprising since the world's most ambitious company stomped into groceries was how little has changed. For Amazon, adding Whole Foods made its jumble of grocery-related offerings more disjointed. And while the ripple effects from the Whole Foods deal have been profound, as my colleague Sarah Halzack pointed out, predictions of Amazon bushwhacking the grocery business haven't come true yet.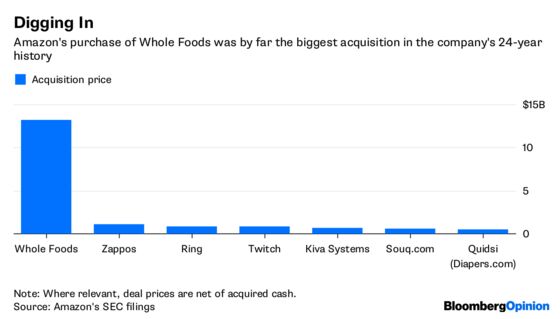 Whole Foods has changed on the edges. There are no pharmacies, package-sorting centers or automated supermarkets. Amazon did make selective price cuts, but by some 
estimates
 Whole Foods still deserves its reputation for extra-large prices. Out of 450 U.S. Whole Foods stores, about a dozen cities have added 
home-delivery options
 with Amazon couriers. Many Whole Foods stores now sell Amazon gadgets — but
as an afterthought
 at times
. 
Amazon's promise to make Prime the loyalty program for Whole Foods remains unfulfilled in about half of stores. Some Prime members who wanted to take advantage of discounted Thanksgiving turkeys were encouraged to use a 19th-century innovation: paper coupons.
If Amazon's 
no-cashier
 convenience store is a glimpse at the company's vision of the grocery future, Whole Foods is a reflection of its less-imaginative grocery present. 
The Whole Foods deal and its aftermath are reminders of Amazon's struggles with its grocery operations. The purchase was both an acknowledgment that Amazon couldn't go it alone in groceries or with purely online tactics, and it was Amazon's declaration that it wants to go big in a category with more than $1 trillion in annual spending in the U.S. alone — and only a few percentage points of that online. 
Amazon now has to tackle the continued integration of Whole Foods and an even bigger task: making the company's grocery-related offerings more coherent. Including the company's main shopping mall, Amazon now has at least eight somewhat overlapping services from which people can buy food or household goods. One key to Amazon's success is its simplicity of buying. The company's grocery offerings are anything but simple.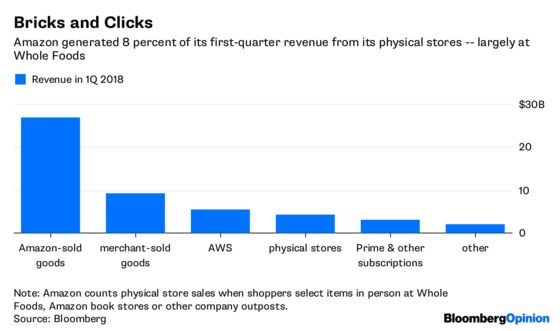 If a Prime subscriber in Dallas wants a pound of Whole Foods brand butter delivered, he could order it from Whole Foods and an Amazon courier would bring it to his door. In Boulder, Colorado, where Amazon doesn't have its own delivery option, the butter buyer is directed to set up an account with Instacart Inc., a food-delivery startup that had a 
partnership
 with the pre-Amazon Whole Foods. In Philadelphia, shoppers can have the same item delivered from Whole Foods or from AmazonFresh, the company's decade-old grocery delivery service that
 hasn't found its footing
. In New York, shoppers can buy a couple dozen butters (just not the Whole Foods brand) from PrimeNow, Amazon's one-or-two-hour delivery service on select items.
Amazon also offers 
Pantry
 for bulky household goods and 
Instant Pickup
 for quick orders including snacks and drinks. In Seattle, Amazon has two drive-through 
grocery pickup spots
 and the Go automated convenience store — with perhaps 
more on the way
. Shoppers would be forgiven if their heads are spinning. 
Grocers do need alternatives for different cities and for the range of shopping needs. But there's a fine line between giving choice and confusing shoppers to the point where they go elsewhere. The tangle of Amazon services selling groceries adds complexity for the company, too, with different supply chains, logistics demands and customer experiences.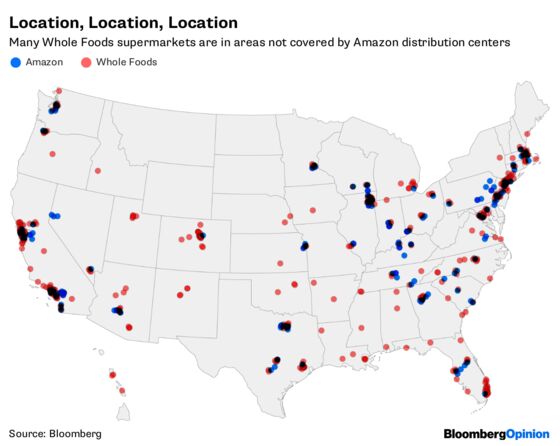 Amazon officially took over Whole Foods only in late August, and no one counts out the company's ability to work its magic on groceries, an industry that has remained immune to the forces of e-commerce and whose shopping experience, even online, hasn't changed that much for decades. It's likely that Amazon will see which grocery options prove popular, and double down on those while scaling back others over time. 
Amazon is working with important advantages: the loyalty of many U.S. shoppers and its ability to be patient. Surveys commissioned for Barclays Research in Cincinnati and Dallas found that significant minorities of respondents reported shopping more at Whole Foods after Amazon's acquisition. (A national survey by YouGov found people's willingness to consider shopping at Whole Foods has settled back to roughly where it was when Amazon's acquisition was announced.)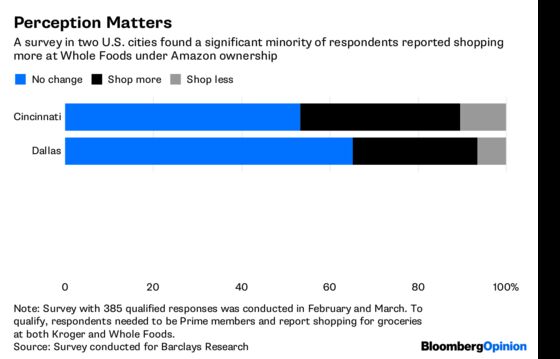 Already, Amazon is a big player in groceries thanks to its e-commerce prowess. John Blackledge, a stock analyst with Cowen & Co., estimated that household goods, pet products and personal care items are top sellers on Amazon. Those and other areas of grocery spending outside of food and beverage purchases are roughly one-third of Americans' estimated grocery spending, Blackledge said.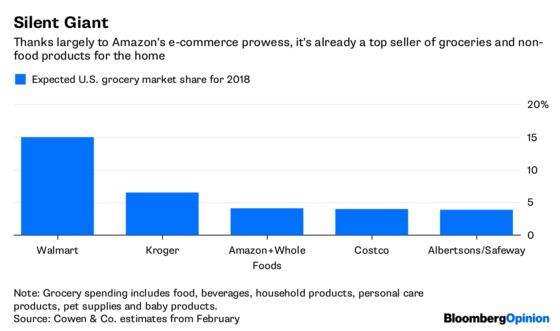 Unlike most other grocery sellers, Amazon is able to flail and fail as it hunts for the right strategy. If any other company had paid more than $13 billion to expand into a new and tough corner of industry, investors would have screamed that the CEO was nuts. Amazon CEO Jeff Bezos's splurge on Whole Foods was cheered. The company gained $11 billion in market value on the day it announced the deal. Analysts have asked — but not pressed — Amazon about how it plans to make sense of its sprawling grocery operations. Conventional grocers don't have the luxury of making unquestioned Amazon countermoves.
There's no turning back for Amazon now in groceries, and it's no wonder. Food shopping is one of the biggest categories of consumer spending, and the frequency of purchases gives retailers regular opportunities to grab bigger chunks of household budgets. That's music to Amazon's ears. Amazon has become a first stop for many people buying anything online. If it can get people to think that way about more of their in-store shopping for groceries and more, Bezos will win. Again. 
-- Elaine He contributed the "Location, Location, Location" graphic.