WPP's Perfect Advertisement of How Not to Do It
(Bloomberg Opinion) -- Months after WPP Plc started investigating allegations of personal misconduct by CEO Martin Sorrell, the advertising giant's silence on the outcome of that inquiry has been deafening.
At the weekend, the Wall Street Journal reported that the probe addressed whether he used company money to pay a sex worker. Sorrell has strongly denied the WSJ's report.
WPP — one of Britain's biggest publicly traded companies — has refused to detail either the substance of its inquiry or the outcome. That's a mistake.
The need for transparency here goes far beyond any prurient desire to know whether one of Britain's most highly-paid executives may have mis-used company coffers. Both WPP shareholders and investors considering whether to back Sorrell's future ventures have been deprived of key information they need when allocating money.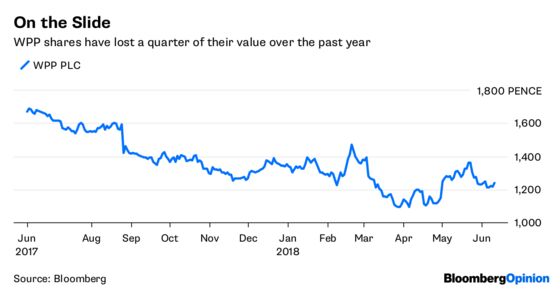 Glass Lewis, an influential proxy advisory firm that provides corporate governance advice to fund managers, has said WPP's probe has been so opaque that investors should this week vote against both Roberto Quarta's reappointment as chairman and the ad giant's remuneration report, which included a 14 million-pound ($19 million) severance payment to Sorrell.
If the investigation exonerated Sorrell, then WPP should tell its shareholders, but without specifying the unjustified charge against him. If, however, the probe found sufficient evidence of wrongdoing to prompt his resignation, then both the charge and the result should be made public. Investors could then decide whether that severance deal is justified.
Fund managers weighing whether to back Sorrell in his future ventures appear to have every faith that he can repeat the dealmaking that turned WPP the world's biggest advertising company.
Last month, Sorrell announced his new venture, S4, saying he had pledges from institutional investors to provide 150 million pounds to finance acquisitions. Sorrell said he sees "significant opportunities" in the communications industry to start with "a clean sheet of paper." So he's likely to be tapping investors for funds in the not-too-distant future.
But the unanswered questions about Sorrell's conduct in his former position should be bound to come up as part of the due diligence process for assessing those cash calls.
The character of any CEO asking for money should play an important role in influencing any asset allocation decision, above and beyond whether the venture will generate attractive returns.
Again, Sorrell may be entirely innocent of any wrongdoing; but investors aren't in possession of sufficient knowledge to make that judgment. WPP should stop hiding behind what it calls the "personal" nature of the matter — and Sorrell should allow the company to do that.
Martin Sorrell is on the board of Bloomberg Philanthropies.