Singapore Inc. Buys an Overpriced Ticket to Hainan
(Bloomberg Opinion) -- Is there any valuation at which Temasek Holdings Pte could buy into Hainan Airlines Holding Co. at a decent price? Considering the indebtedness of China's most highly rated carrier, it's hard to think of one.
Hainan Air's shares have been suspended for six months while controlling shareholder HNA Group Ltd. is in intensive care. But the 7 billion yuan ($1.1 billion) valuation for a 20 percent stake to a group including a Temasek-owned fund gives you a decent idea of what it might be worth.
On first sight, the roughly 35 percent discount to the price at which Hainan Air's shares last traded looks like a good deal. Still, once you throw in net debt of $7.8 billion you're looking at an enterprise value around 50 percent larger than that of Temasek's key airline shareholding Singapore Airlines Ltd., despite Ebitda about 15 percent lower.
Even if all Hainan Air's equity was sold for a single yuan, that hefty debt pile would mean it was changing hands at a higher enterprise value-to-Ebitda ratio than Singapore Air, one of the best-run carriers on the planet. That feels like a rich price to pay.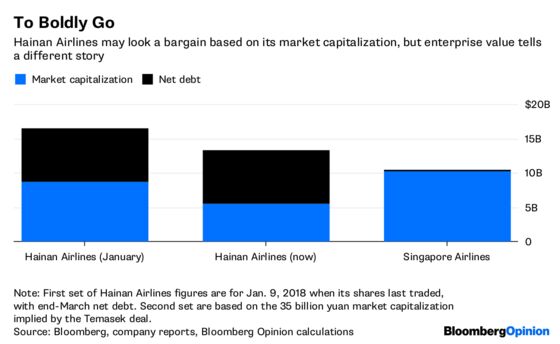 To be sure, there are potential strategic advantages for Temasek in building links between the two airlines.
Hainan Air's passenger-traffic growth has been moving at a double-digit pace for five years and topped an incredible 46 percent in 2017. It now carries more people than Singapore Air, at a better net income margin.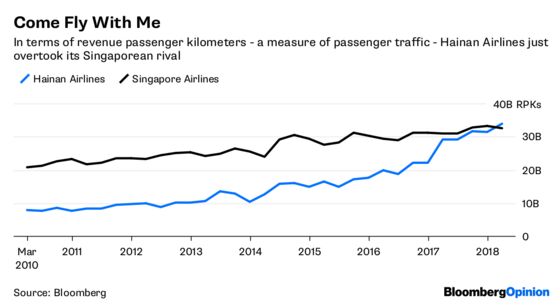 And while Hainan Air's premium rating is a neat match with the city-state's flag-carrier, its non-fuel operating costs are also comparably world-class. At 4.29 U.S. cents per available seat kilometer, they're not all that much less than Singapore Air's 5.01 cents, and higher than Qantas Airways Ltd. at 3.76 cents.
Hainan Air's net debt, meanwhile, is larger than that of the far bigger Delta Air Lines Inc. and Deutsche Lufthansa AG, and almost 26 times Singapore Air's modest borrowings.
One crucial advantage of a deal could be a seat at the table of China's domestic aviation market, something that Temasek and Singapore Air were blocked from in 2008 when shareholders in China Eastern Airlines Corp. rejected their bid for a 24 percent stake.
Again though, it's questionable whether a less-than-20-percent interest in a fourth-placed carrier controlled by an indebted conglomerate is a good route to that – especially when you consider that Hainan Air's regulatory release doesn't even mention a board seat, which should be considered the bare minimum for a strategic investment of this sort. Next to arch-rival Cathay Pacific Airways Ltd.'s cross-shareholding in flag-carrier Air China Ltd., Temasek's cash barely gets it a foot in the door.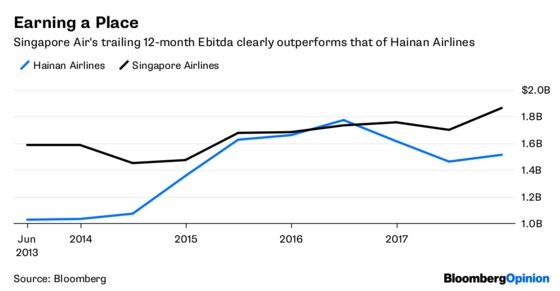 The worrying prospect is that the transaction will be a repeat of the investments that both Singapore Air and HNA have made in Virgin Australia Holdings Ltd. Like Hainan Air, Virgin is a decent carrier for passengers and a miserable one for investors, with an immense debt load and shares that barely change hands.
Attempts to use the stake to crack open a valued domestic market for Singapore Air after it bought into the stock in October 2012 ended in failure. Qantas is as dominant in Australia now as it ever was, while Virgin shares have fallen by more than half. The remaining investors are locked in a Mexican standoff, with no player in a good position to either bulk up or sell out.
As we've argued previously, while there are benefits to a love-in between Temasek and HNA, the Singaporeans should extract some bargain prices in return for their cash. Judging by this first deal, there's precious little evidence of that.