Italian Bonds Rejoice in Statement of the Obvious
(Bloomberg Opinion) -- Italy's new finance minister has made a public commitment to the common currency, something that really shouldn't have to be said. The positive reaction from Italian government bonds shows it needed to be.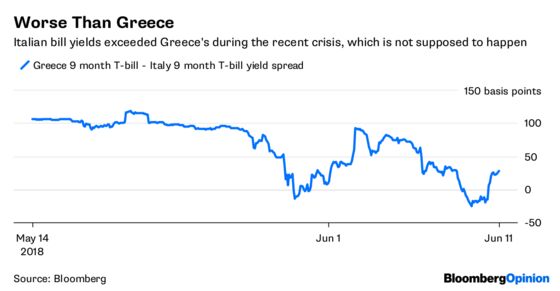 That reassurance, along with other market-friendly comments, should stoke a further drop in short-dated Italian bond yields. The Italian curve had flattened dramatically as political turmoil hammered the shorter maturities, and this should now correct back.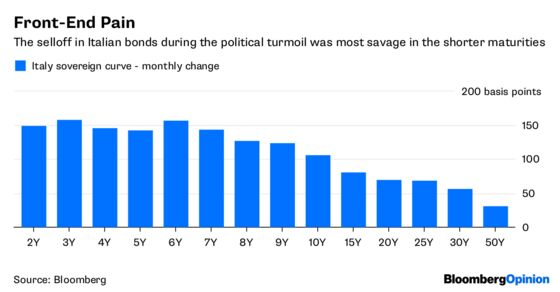 It looks like President Sergio Mattarella's insistence that the new government appoint a technocrat as finance minister, and his rejection of the euroskeptic, Paolo Savona, has paid off. The point of the exercise was to remove any prospect of Italy leaving the euro.
And nothing beats hearing it from the horse's mouth. Giovanni Tria, in an interview with Corriere della Sera over the weekend, went out of his way to calm fears about the status of the currency. He also pledged to boost economic growth through structural reform instead of deficit spending, and to keep financial stability as part of the government's strategy.
The last point is important for investors, as it highlights the government's wariness of getting anywhere near the huge premium that Italian bonds had more than German debt around 2011-2012. Though cutting state debt is something a challenge, given the ambitious first-year spending program of over 100 billion euros ($117.8 billion), at least officials are headed in the right direction.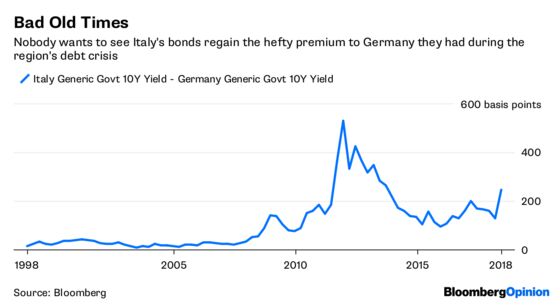 Wednesday's auction of three, seven, 28 and 30-year securities looks like it could be an important test of how far investors believe Tria and -- importantly for the largest bond market in Europe -- whether the high volatility of the past month can subside.
But it might be wise not to read too much into the sales. Italy has the largest amount of supply on offer this week in European government bond markets, with about five to six billion euros for sale. With no redemptions and just 400 million euros of coupons being paid this week, there is not much to soften the blow from the new issues. Germany and Portugal also have auctions, but there are large redemptions this week for both.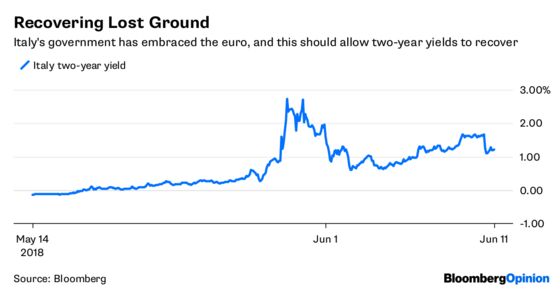 It will take time for Italy's new political order to bed down, and for investors to believe officials' statements of commitment to things that really should go without saying. So the jury remains out on how fiscally responsible this new administration really will be. For that reason, yields at the longer end of the Italian curve will not lose their hefty premium over Germany in a hurry. But removing the threat of wrecking ball approach to the euro and state finances should see shorter maturity Italian bonds rally.