Charlie Ergen Spies a Bargain In the Brexit Skies
(Bloomberg Opinion) -- The satellite industry has stumbled across what looks like another Brexit bargain. Inmarsat Plc, purveyor of in-flight broadband, is one of those London-listed companies that does very little business in Britain but looks cheaper than ever to a foreign buyer.
Long-mooted U.S. suitor EchoStar Corp. – led by billionaire founder Charlie Ergen – has made a tentative approach and the U.K. board may have a fight on its hands to extract a decent price if the bidder is serious.
Some 94 percent of Inmarsat's revenue comes from outside the U.K. Yet it hasn't performed as well as other "dollar" stocks, which have shined because of sterling's Brexit-induced weakeness. There are good reasons for this. Inmarsat has been investing heavily in satellite broadband, especially for internet connections on passenger jets. Hence a dividend cut this year.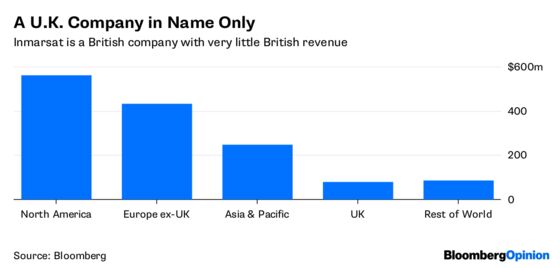 In dollar terms, the stock had fallen 67 percent from its 2015 high before it ticked up on takeover speculation on Friday. The valuation had dropped from about 13 times prospective Ebitda to less than half that.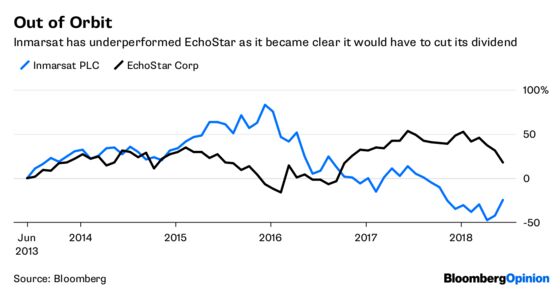 For EchoStar, the limited overlap in operations means a takeover wouldn't generate large operating synergies, analysts reckon. But consolidation is in the air. OneWeb, backed by Softbank Group Corp., tried and failed to do a deal with the larger Intelsat SA last year -- and Inmarsat offers some attractive assets to any buyer hoping to lead a wave of dealmaking.
Its investment in aviation and maritime broadband is one. A contract providing spectrum to U.S. satellite group Ligado Networks is another. The base value of that relationship alone is 335 pence a share, 80 percent of Inmarsat's undisturbed share price, Jefferies reckons.
Put a standard 30 percent premium on the pre-leak price and that would suggest an offer of 543 pence a share, valuing Inmarsat at 2.5 billion pounds ($3.4 billion), or $5.4 billion including assumed net debt. The stock was trading at about 538 pence on Monday morning.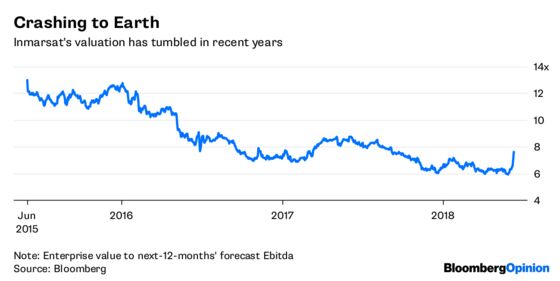 The snag is that it's hard to see the Inmarsat board recommending a deal at close to that level, given the lowly starting valuation and a one-year closing high of 822.5 pence a share. Jefferies reckons EchoStar could afford 11 pounds a share based on the resulting boost to cashflow. Private equity also likes consolidating industries and could be attracted.
British M&A is becoming polarized between defensive domestic deals looking to bulk up in preparation for economic weakness, and foreign approaches, like this one, for international companies. Inmarsat's starting defenses aren't strong. Its best bet is that a counterbidder forces Ergen to pay up.