For Sale: U.S. Rule of Law. ZTE the First Customer
When you're backed by the government of the world's second-largest economy, that's a bargain.
The cost to China of having ZTE Corp. locked out of the U.S. technology supply chain can't be counted in dollars, cents or yuan, which is why Beijing will be more than happy with the mulligan the telecom-equipment maker was given.
The terms of this week's deal between ZTE and the U.S. Department of Commerce look just like the first settlement they signed a year ago after the Shenzhen-based company got caught sanction-busting. You know, the one where ZTE copped a $1.19 billion fine, $300 million of which was suspended for seven years. 
ZTE also agreed to active audit and compliance requirements designed to prevent and detect future violations and a seven-year suspended denial of export privileges which could be quickly activated if any aspect of this deal is not met.
That deal was not met. The result: A $1.4 billion fine, $400 million of which is suspended for 10 years, and another compliance requirement imposed by the department's Bureau of Industry and Security.
ZTE will also be required by the new agreement to retain a team of special compliance coordinators selected by and answerable to BIS for a period of 10 years.
Seems to me that the only difference is that these new monitors will be selected by the bureau. Even if that office or the FBI manage to open a Shenzhen field office (U.S. law enforcement operating freely on Chinese soil, good luck with that) then the chances of these hand-selected, Chinese-fluent G-men being able to catch shenanigans by ZTE in its own backyard aren't high.
And ZTE investors needn't worry about the fine. The Chinese state is the company's main backer. Don't believe me? Then consider this: government grants to ZTE last year equaled 114 percent of the company's net income attributable to ordinary shareholders.
State and corporate business was just 9 percent of revenue last year, so it's not like Beijing was merely buying surveillance systems (which they probably did, anyway).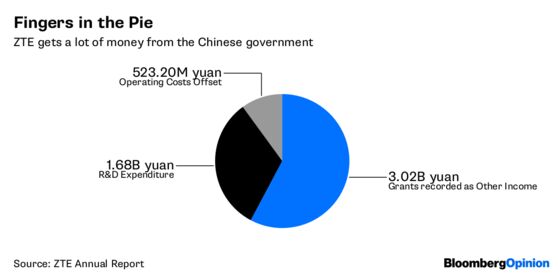 Instead this was straight-up government support. Rather than write checks, such offerings come in the form of tax refunds on software, paying R&D expenses, and offsets on other operating costs.
That level of subsidies, 5.2 billion yuan ($816 million), more than covers the initial $661 million fine meted out by the U.S. Department of Commerce (before ZTE got caught reneging on the deal). And to add to the irony, these fines become a wonderful source of revenue for Commerce.
If you want to really connect the dots, the result is that the Chinese government indirectly funds the U.S. Department of Commerce. That makes trade in the Rule of Law a lucrative business for both sides, and ZTE the first happy customer.