Dumping an Unpopular Boss Doesn't Fix Everything
(Bloomberg Opinion) -- Lost confidence is hard to regain. Gavin Patterson, the boss of BT Group Plc, came up with a shiny new strategy last month but there's probably no way he could have won over dubious investors after a long period of poor performance. On Friday, the British phone giant said he would leave later this year.
Chairman Jan du Plessis may look capricious, having endorsed his CEO alongside the poorly received strategic reset. In fact, he's done what his job requires: Back the boss to the hilt but waste no time in changing rider when it's clear his position is unsustainable. Too often, a chairman lets the situation fester.
BT says the strategy still holds. But are its woes really as simple as "right plan, wrong person?"
Whoever steps into Patterson's role – Tele2 AB's Allison Kirkby and Severn Trent Plc's Liv Garfield and are potential candidates – shouldn't feel beholden to the roadmap. This is a chance to reset poor relations with the U.K. regulator, which is miffed by the lack of progress in building a national fiber broadband network, and sell a new plan to shareholders without historic encumbrance.
The company has the difficult and conflicting task of earning returns for shareholders, while delivering the public policy objective of upgrading the U.K. telecoms infrastructure. That's operated by its wholesale arm Openreach (which Garfield ran formerly, a mixed blessing.)
Patterson sought to fund the investment with 13,000 job cuts over three years, while keeping shareholders sweet with a commitment to maintain the dividend. The shares have a prospective yield of 7.6 percent, against 4.2 percent for the FTSE-100. That suggests investors aren't sure convinced that this balancing act is possible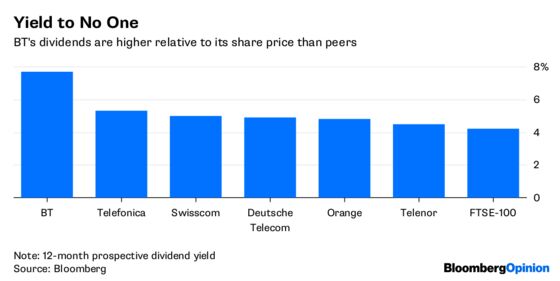 It's not immediately clear that a successor has many options to do things differently, unless they're cut some slack by telecoms regulator Ofcom – for example, on rolling out fiber to rural areas where the economics are especially unfavorable.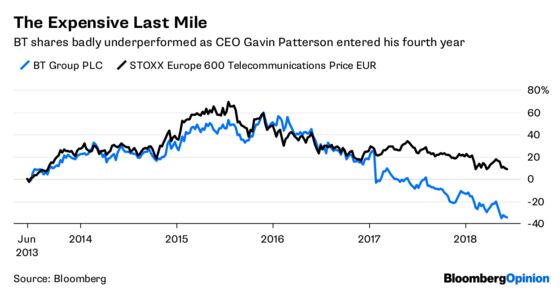 BT could bring in a partner to co-fund investment. Private equity and infrastructure funds are potentially interested, Bloomberg News reported last month. Sharing the burden would make sense if it freed up BT to invest in 5G services for its mobile arm, although Openreach's hefty pension scheme is an obstacle.
The group could also move further away from Patterson's content strategy, partnering instead with rivals such as Amazon.com Inc. for sports rights instead of bidding high for exclusivity – as it has done with Sky Plc already.
BT shares rose slightly in a falling market on Friday. Usually, the individual contribution of the CEO to corporate success is vastly overstated. But this is a stakeholder business. If Patterson's successor can reach a decent accord with the government and regulator and sell a suitable strategy to investors, they will deserve the plaudits.