Zero Profit, 750% Return: Biotech's Sick Ride
(Bloomberg Opinion) -- Biotech IPOs are a bit like roller coasters, exciting and terrifying at the same time. Revenue and earnings can range from zero to billions.
Hong Kong Exchanges & Clearing Ltd. is allowing biotech firms that haven't made a penny to go public, as long as they have a market value of at least HK$1.5 billion ($191 million) on listing, among a few other undemanding requirements. 
Ascletis Pharma Inc., which has yet to come up with a product that's ready for sale, was the first to file, and many are expected to follow. After all, Chinese healthcare stocks are enjoying a rare bull run. In Hong Kong, 3SBio Inc. has gained 32 percent and Genscript Biotech Corp. has surged 40 percent this year against a broadly flat market.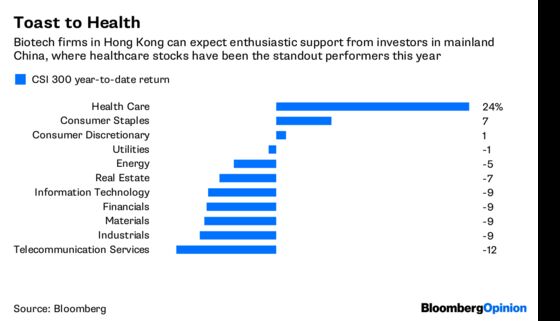 So how to value a biotech? Earnings probably don't even enter the equation, if the U.S. market is anything to go by. Among such companies listed there with a market cap of at least $200 million, about a quarter generate no sales and less than 20 percent earn any profit, data compiled by Bloomberg show.
That hasn't stopped their shares from soaring. Since 2011, the sector outperformed the S&P 500 Index in all years except for one. Nasdaq-listed BeiGene Ltd., a clinical-stage biopharm based in China that went public in February 2016, has jumped more than 750 percent to reach a market value of $11 billion. It had sales of $271 million in its last fiscal year.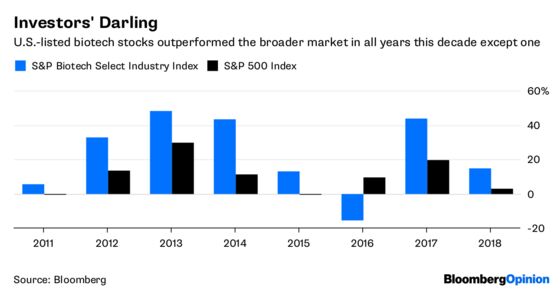 Some investors may be betting their companies will become buyout targets. Of biotech firms that raised at least $20 million in U.S. initial offerings, a remarkable 30 percent were subsequently acquired. For instance, Juno Therapeutics Inc. was scooped up by Celgene Corp. at a 72 percent premium in March, less than four years after its IPO.
For investment bankers, it's a sweet business: Not long after working on an IPO, they can turn around and pitch for an M&A deal, too.
For investors, though, it's buyer beware. Traditional valuation metrics such as cash flow are little use when what a company is selling is hope; real options modeling may serve as a better tool. Much like buying a lottery ticket, the rare biotech firm that develops a blockbuster drug may justify its valuation and provide handsome returns. The majority that don't are likely to expire worthless.
Given the difficulty of identifying the winners beforehand, buying biotech stocks may have more of the characteristics of gambling than investing.
Bear in mind that the hurdles to success are formidable. Cancer drugs are all the craze in China now with more than 4 million new patients a year. But once a cancer drug passes the second phase of clinical testing it has only a 13 percent chance of being approved for sale by the U.S. Food and Drug Administration, according to an MIT study by Chi Heem Wong, Kien Wei Siah and Andrew W. Lo. The success rate for vaccines is 40 percent.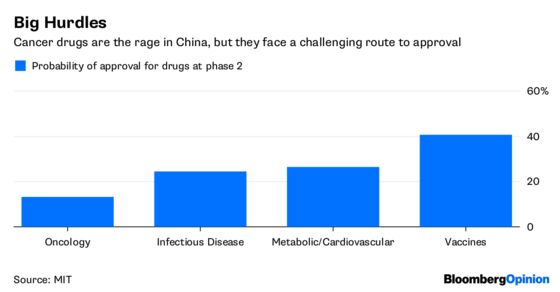 As for the Center for Drug Evaluation — China's equivalent — we know only that it's speeding up the review process. 
Back in Hong Kong, Ascletis Pharma's liver cancer drug has only passed phase one. The company counts Morgan Stanley, Goldman Sachs Group Inc. and China Merchants Securities Co. as its IPO arrangers.
Subscribers to the upcoming batch of biotech offerings are surely in for a thrilling ride. They might want to keep the motion-sickness medicine handy, though — an FDA-approved one, of course.