Fanuc in Trouble? Talk to the (Robot) Hand
(Bloomberg Opinion) -- Talk of the demise of the world's largest industrial-machinery maker is probably overdone.
Fanuc Corp., the low-key Japanese automation giant whose machines pepper factory floors across the globe, has fallen from investors' grace: The stock is down more than 30 percent from its January high, while the Topix index has lost less than 6 percent. Much of the gloom stems from weakening global shipments of smartphones. Fanuc's famed Robodrill makes handset casings.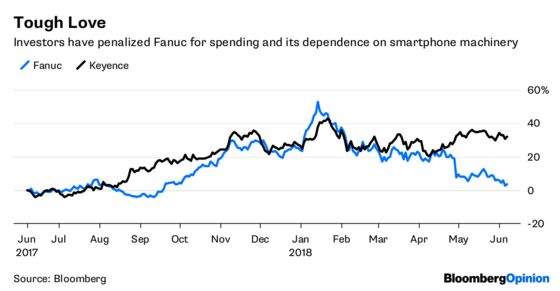 The stock dropped as much as 3.7 percent in Tokyo on Wednesday after Credit Suisse Group AG analysts downgraded the company, noting that Fanuc has been dependent on the iPhone investment cycle for the past six years and follows a pattern of up one year, down the next two. Other analysts have said the firm's costs are too high. 
Fair enough, it's a tough world for all iPhone dependents. Here's a wrinkle in the bear-case thesis, though: Overseas shipments of robots and Robodrills from Yokohama, while down elsewhere, are up sharply to Asia. The volume of robots shipped by the port – mostly Fanuc's – remains close to its highest in decades, at about 5,000 units in April. The company's backlog of orders is near to its highest in more than two years, according to Bernstein analysts.
Meanwhile, the high costs that have drawn criticism are largely related to planned expansion. Fanuc is plowing more than 17 billion yen ($150 million) into plant additions and a new factory that's expected to be completed around the end of this year. That's 16 percent of the company's 103 billion yen in capital expenditure last year. Returns on the capital invested are close to 12 percent, in line with peers that spend far less.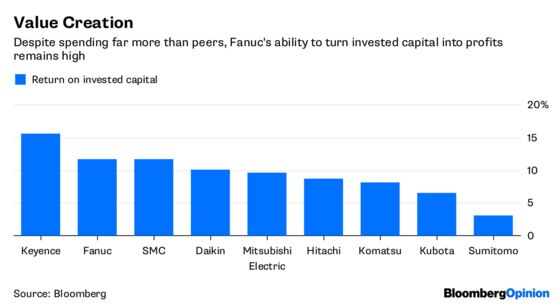 The reality is that estimating how much a company should be outlaying isn't a perfect science. While smartphone demand may come down, growth of automotive technology will go up. The automation drive is intact and at certain points will run ahead of the capital-expenditure cycle as machinery technology evolves.
Investors clearly don't like this uncertainty. Sure, there's a risk that the spending will be wasted and the company just burns a hole in its pocket. Fanuc has kept capital expenditure as a percentage of sales at about 14 percent to 16 percent for the past few years. Investors may have rewarded peers like Keyence Corp. that spend barely 1 percent, but Fanuc's level of investment has kept it ahead.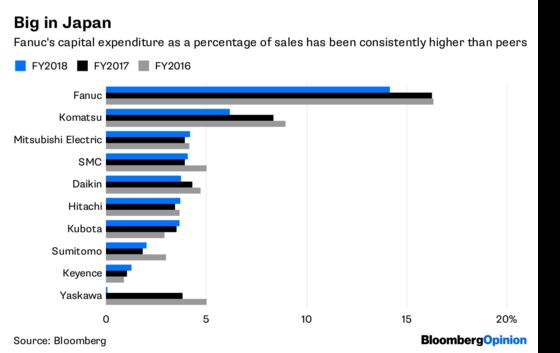 At 25 times forward earnings, Fanuc hardly seems expensive compared with Keyence's 32.5 times. All the talk is just that.