The ECB Deserves This Bout of Political Hot Water
(Bloomberg Opinion) -- The European Central Bank's QE bond buying has come under unusual scrutiny. The central bank doesn't deserve to shake off charges of political favoritism particularly quickly.
The bank said Monday that it underbought Italian bonds and overbought German securities in May, relative to its economy-weighted guidelines for monthly purchase amounts known as the capital key. As a reminder, last month the spread between Italy and Germany blew out to levels that started reminding everyone of the Greek debt crisis, and this served as evidence of investor nervousness about Italy's struggles to form a government.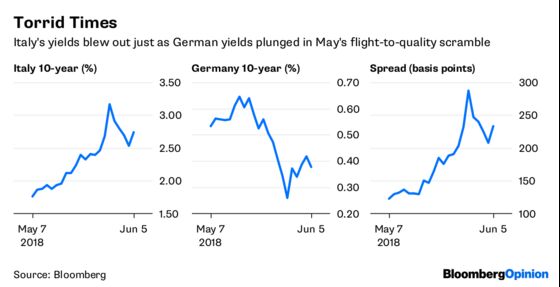 This selloff, coupled with the news of the ECB's buying, prompted Five Star leader Luigi Di Maio to pin the reason for the spread widening on the ECB's diminished Italian bond buying. The central bank's statement raised suspicion among some analysts that officials skewed purchases away from Italy to punish a prospective euro-skeptic government.
The ECB's press spokesman said the change was necessary to accommodate a large German redemption, and that it is acting in line with its stated rules on purchases. That makes a lot of sense and is absolutely normal practice – provided conditions are normal.
...in a flexible and timely manner in the month they fall due, on a best effort basis, or in the subsequent two months, if warranted by market liquidity conditions. The published monthly net purchase volumes per jurisdiction may therefore fluctuate owing to the timing of these reinvestments.
There it is: The asset purchase program has flexible terms for coping with redemptions that permit deviations for reasons of liquidity concerns. And there was a serious one in the case of Germany; the bank's purchases drove 10-year yields down by 40 basis points in late May to a new low for the year. The ECB should have known that the tiny German free float meant their overbuying would have sucked up liquidity.
Equally, it should have known that pulling back its normal pace of purchases on Italy would have had a pronounced effect on yields, given the political turmoil. The bank already owns 345 billion euros ($402.5 billion) of Italian government debt. By reducing support for the market during a period of acute difficulty it has trashed the value of its own investment while simultaneously showing that it won't necessarily do whatever it takes to achieve financial stability. 
The bank has previously strayed from the capital key during times of political strife. Italy's referendum on electoral reform in December 2016 was a tumultuous affair – a loss would have meant an end to Matteo Renzi's premiership, and that's what happened. But thanks in part to ECB overbuying, yields sailed along with hardly a blip. Similarly, France's presidential election in 2017 raised the prospect of victory by far-right populists unfriendly to the euro. French bonds deteriorated, but the selloff wasn't as bad as it might have been, and this is in part because the ECB did its bit.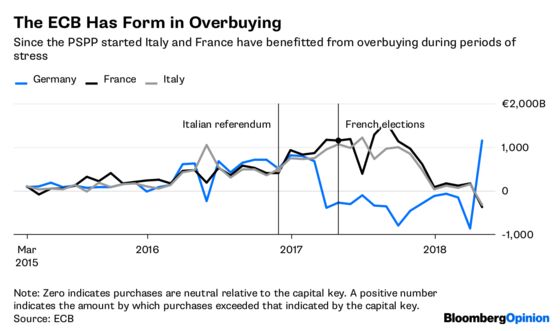 The ECB has for many months overbought Italy and underbought Germany, and hasn't gone out of its way to explain this. So it's odd that May 2018 is the month that it decides to get religion and strictly adhere to its rules for purchases. The argument that it had to soak up German redemptions doesn't quite cut it – Italy also had substantial redemptions in April and May, and the ECB's purchases of Italian bonds actually fell, while rising by nearly 50 percent for Germany.
So it's hard to completely shake the feeling that Italian politics informed the ECB's buying decisions in May. ECB spokesman Michael Steen says that its buying decisions are "never about politics." But this inflexible interpretation of its script forgets the supreme flexibility it has shown in the past. If it had adhered instead to "if warranted by market liquidity conditions," it may have trodden more lightly.