Hudson's Bay Sheds the Gilt to Get Back to Basics
(Bloomberg Opinion) -- Good riddance, Gilt.
In quarterly results that Hudson's Bay reported on Tuesday, Gilt was classified as a discontinued operation, so it was excluded from comparable sales figures. But it used to be grouped in quarterly results with Saks Off Fifth, and as this chart shows, that division has been struggling for some time: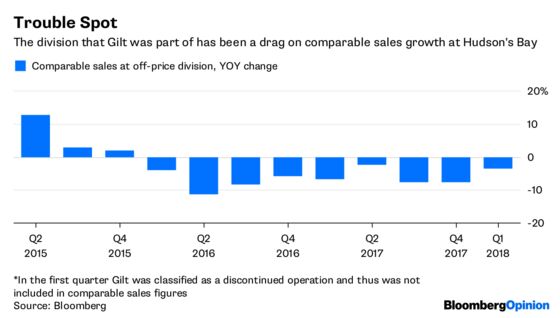 Helena Foulkes, who only became CEO of Hudson's Bay in February, undoubtedly did the right thing by unloading this dead weight from the company's portfolio. That she acted quickly to do so is an encouraging sign that she'll be pragmatic and decisive in her bid to turn around the challenged company. (Her decision announced on Tuesday to close as many as 10 Lord & Taylor stores, including the flagship Manhattan location, also hints at a proactive approach.)
And yet this transaction is a reminder of just how big a mess she has on her hands. It reflects poorly on previous leadership that the company handed out $250 million just two years ago for something that turned out to be a complete dud.
Gilt reportedly had a valuation of $1 billion in 2011. The mere fact that Hudson's Bay was able to get Gilt for $250 million should have been a red flag that the model was not looking as durable and promising as it once was.
And whatever digital expertise Gilt brought to the table, it doesn't appear Hudson's Bay was able to put it to particularly good use. The company reported that online sales increased just 7.7 percent in the latest quarter, a pace of growth that puts it behind the likes of Nordstrom Inc., which had 18 percent growth for digital-enabled sales in the quarter, and Macy's Inc., which had "double-digit" e-commerce growth.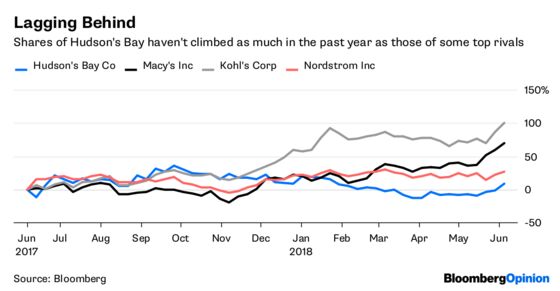 At least Foulkes clearly knew she needed to clean house. She has already hired Bari Harlam as chief marketing officer. Harlam worked on CVS's ExtraCare — one of the retail industry's most potent loyalty programs. And she brought on Stephen Gold, another CVS veteran, to be chief technology and digital operations officer.
And if anyone has the right background to tackle the problems at Lord & Taylor, it's Vanessa LeFebvre, whom Foulkes appointed president of the troubled chain. LeFebvre worked at Lord & Taylor years ago but has since done a tour at Macy's Inc., where she worked on building its promising Backstage off-price initiative. Most recently, she was at Stitch Fix Inc., a digital-centric startup with a new approach to shopping for apparel.
It's too early to say whether this new team is making progress. But if they can't fix this struggling retailer, you have to wonder if anyone can.