Who Needs Shareholders?
(Bloomberg Opinion) -- Some CEOs can go a long way without having to ask for much from their shareholders.
Bayer AG's $63 billion takeover of GM-crops giant Monsanto Co. went down like a lead balloon when the plan emerged in May 2016. Many investors disliked CEO Werner Baumann's decision to tilt the pharma group's strategy towards agriculture. A mega share sale to provide some of the estimated $19 billion of fresh equity required was in the offing.
But Baumann's dependence on shareholder support was never that great and has only reduced. Investors don't get a vote on the deal, and their contribution has been limited to a 6 billion-euro ($7 billion) rights offering. If they don't lap it up, 20 investment banks -- some of which advised on and financed the deal -- will do so.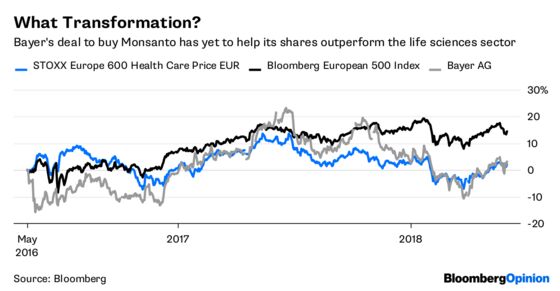 The purchase was originally valued at $66 billion. The price has fallen as Monsanto reduced its borrowings while the deal trundled through the regulatory approval process. The equity requirement has shrunk, too. Bayer has agreed disposals, jettisoned much of its stake in polymer business Covestro AG, and sold 4 billion euros of bonds which convert into its shares next year. Singapore's state-owned investment firm Temasek Holdings Pte bought 3 billion euros of new shares in the German company in April.
The rights offering announced on Sunday will see Bayer increase its share count by less than 10 percent. Investors are being offered the new stock at a 20 percent discount to the implied value of their shares adjusting for the dilution. In most rights offerings, the discount is typically about 40 percent.
That narrow mark-down looks like a big vote of confidence in the Monsanto takeover. But it's deceptive. The cash-call has been in Bayer's share price for two years. The banks acting as buyer of last resort aren't taking on an outsize risk.
What's more, Bayer's shareholder register has changed. Those that wanted the company to be a pure-play pharma business have had no choice but to sell. Those that have come in, notably Temasek, evidently like the strategy, and don't have many other ways of getting such sizeable exposure to agriculture now that Syngenta AG has been acquired by China National Chemical Corp.
The investors who left won't feel they have missed out on much. Bayer shares were at 100 euros before Bloomberg broke the news of Baumann's ambitions for Monsanto. The implied price of the shares, adjusting for the rights offering, is just more than 101 euros.
But it is still early days. The Bloomberg European pharma index is flat over the same period, and the financial logic of the transaction is much better than it first seemed.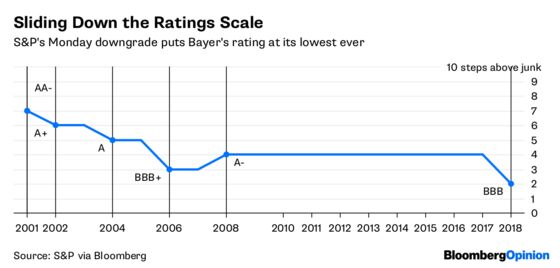 Baumann will get the rights offering away and the Monsanto deal done. But Bayer will be highly indebted and two notches away from a junk credit rating. Next time the CEO wants to do something big, he's going to need shareholders to play a something more than a bit part role.