Air France's New Contender for Losing His Shirt
(Bloomberg Opinion) -- Imagine you run a hotel group that's just sold a controlling stake in its property portfolio so it can pursue a fashionable "asset-light" strategy.
What's the most logical way to deploy some of the 4.6 billion euros ($5.4 billion) of capital released by that transaction to maximize investor returns? Maybe not buying a chunky stake in a strike-prone, heavily indebted, barely profitable airline. Yet that's just the plan dreamed up by the management of Accor SA, Europe's biggest hotel operator. 
Accor, whose brands span the luxury Raffles and Sofitel chains as well as the budget Ibis and hotelF1, has confirmed a weekend report in Les Echos that it's thinking about buying a minority stake in AirFrance-KLM. The newspaper said one option was acquiring the French state's 14 percent holding.
Its reflections are at a "very early stage," which at least gives it time to reconsider a lousy idea. Accor's investors certainly don't like it. The stock fell about 6 percent on Monday, obliterating about 860 million euros of equity value. That's all the more embarrassing because the stake would only cost about 450 million euros at current prices, assuming no premium.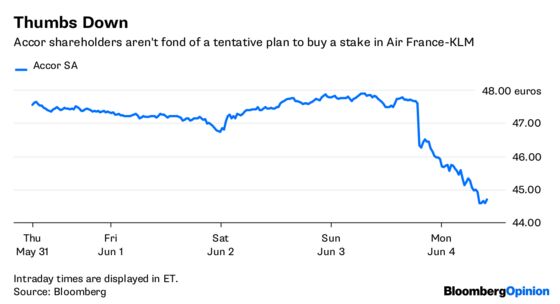 After agreeing to sell most of AccorInvest, its property assets, in February, Accor will be flush with cash soon. It's planning up to 1.35 billion euros of share buybacks, and investors assumed the rest would be used to pay down debt and expand in emerging markets. The Air France-KLM idea is an unhappy surprise.
True, there's some logic in trying to connect the customer loyalty programs of a hotel group and an airline to exploit the huge amount of personal data they've collected, and to compete better with online travel sites.
Ryanair Holdings Plc and Easyjet Plc have both signaled plans to make more money by offering hotel rooms too. Still, it makes much more sense for a capital-intensive airline to diversify into travel services, as a way to chase higher profit margins, than the other way around. 
The only selling point for Air France-KLM right now is that it's going cheap. The shares trade on about 5 times estimated forward earnings. But with labor tensions forcing the departure of two chief executives in rapid succession, the stock is in the doghouse for a reason. Increasingly, the company looks ungovernable and there's 6.3 billion euros of net debt and capitalized lease obligations to worry about.
Accor's hotel business delivered a 33 percent operating profit margin last year, whereas Air-France KLM achieved a 7.2 percent adjusted operating margin – and that was a standout year. 
I can see why the French president Emmanuel Macron might think that adding Accor to the share register is a neat solution. The hotel operator would presumably be a more demanding and expert investor than the state, and at the same time a French entity would remain the anchor shareholder. France likes to keep its national businesses on a tight leash.
But there's no sound reason for Accor to make Air-France KLM's problems its own. If it can't think of a wiser way to use surplus capital, it should give more back to shareholders.