The Godfather's 7,300% Return Is Quite the Legacy
(Bloomberg Opinion) -- Morris Chang has a long list of items that could be filed under the word "legacy."
On the list: longest-serving chairman of a major tech company – 31 years. Oldest chairman of a major tech company. Founder of an entirely new business model. And recently minted billionaire.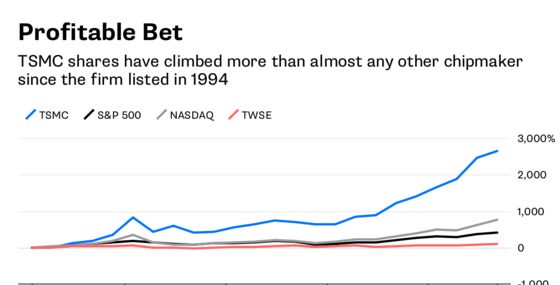 "Morris is one of the world's great CEOs,"  Nvidia Corp. Chief Executive Officer Huang Jen-hsun gushed last week.
TSMC Annual Revenue: $32.1 billion
Huang should know. TSMC is invaluable to global chipmakers like Nvidia, Qualcomm Inc. and Broadcom Inc. because it allows companies to design semiconductors without actually manufacturing them. Before Chang and TSMC came along, chipmakers needed to have their own factories or a good relationship with a firm that both designed and produced them.
TSMC Net Income Margin: 35.1%
Chang thought differently and opted for a pure-foundry model. TSMC only manufactures, ensuring that it doesn't compete with its customers, which in turn could then go fabless. Even today, there are few companies entrusted to keep the deepest secrets of the world's leading tech firms under the one roof. Nvidia's Huang isn't alone in understanding the importance of TSMC to the industry, and to Taiwan.
Not one great company that I know of doesn't rely on TSMC ... TSMC, as you know, is a national treasure.
Ironically, Chang himself isn't Taiwanese. He was born in Ningbo, China, and moved to the U.S. where he studied at Massachusetts Institute of Technology before getting his PhD at Stanford University. It wasn't until Chang was in his 50s that he moved to Taiwan at the invitation of the government to head a national industrial promotion unit, called ITRI, out of which TSMC was born in 1987.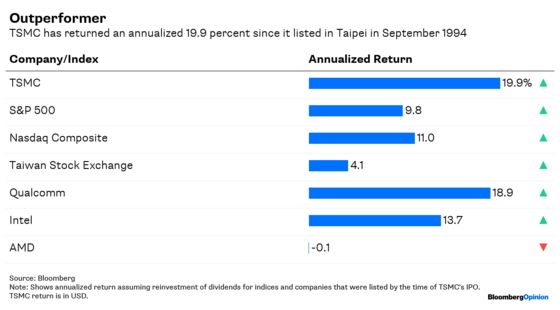 In 1994, 20 years after then Advanced Micro Devices Inc. Chairman Jerry Sanders famously declared that "real men have fabs," Chang took his pure-foundry public on the Taiwan Stock Exchange.
Others have followed the same path. United Microelectronics Corp. switched to a foundry model, while new entrants include Semiconductor Manufacturing International Corp. But TSMC's massive spending on equipment and research has made it difficult to catch.
TSMC 2017 R&D Spending: $2.7 billion
Apple Inc. switched manufacturing of its iPhone chips from Samsung Electronics Co. in part because the South Korean giant was also making semiconductors and phones that served as a direct competitor. Bitmain Technologies Ltd. could only manage to become the world's biggest bitcoin chip designer because it has TSMC do the manufacturing.
It's the indispensable nature of TSMC that leads to one of Chang's most important legacies: 
TSMC Share-Price Return Since Listing: 7,359.85%
If nothing else, that's enough to ensure the industry won't ever forget The Godfather.