Who Really Runs Deutsche Bank?
(Bloomberg Opinion) -- What a gift to mark the European Central Bank's 20th anniversary. Germany's largest lender, Deutsche Bank AG, is being battered by financial markets, hounded by U.S. regulators, and downgraded by credit-rating companies.
It's fitting then that, despite CEO Christian Sewing's effort at a pep talk on Friday, it is sources from the ECB that have come out to reassure markets.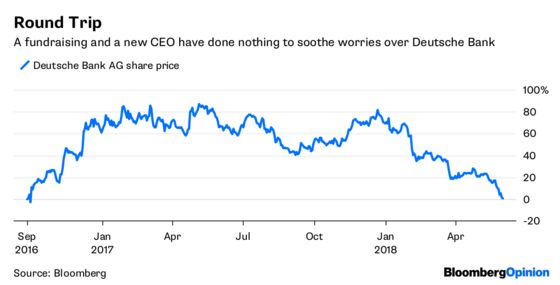 But we have been here before. Deutsche Bank's troubles are well known. Poor leadership now risks making them worse.
There are eerie parallels between the bank's misery and the situation under Sewing's predecessor, John Cryan, in 2016. Back then, the firm seemed to be veering from one existential crisis to another, from concerns over its ability to pay the interest on some of its debt, through to the cost of a multi-billion-dollar U.S. mortgage settlement.
Cheap bank funding from the ECB and implicit support from the German government eventually calmed markets, while Cryan's promise of a leaner, less risky Deutsche Bank helped secure $8.5 billion in fresh capital from investors. The survival hurdle was cleared.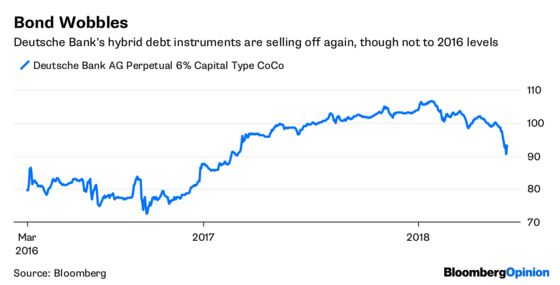 What's concerning today, after two straight annual losses in 2016 and 2017, is that so little seems to have changed. The bank has a new CEO, but still no clear answer about how it will become a structurally and consistently profitable business.
Last week's promise of more than 7,000 job cuts seemed to herald yet more revenue shrinkage and staff defections. Management's mixed messages on whether the firm will cut back, stand still or double down on the U.S. market -- one where it frankly can't compete as a full-service institution -- have sown confusion. Deutsche is eyeing a 10-percent return on tangible equity, but JPMorgan analysts reckon that it will be only be at half that by the end of 2020. It's grim.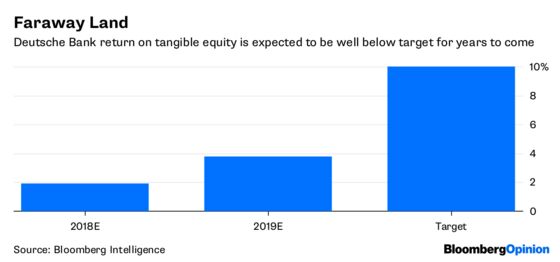 Sewing's attempts at reassuring staff and investors won't work without a clearer picture about what the bank is about to embark on and what Deutsche Bank will look like when it reaches its destination.
"There's no reason for us to be discouraged," Sewing told colleagues in his latest missive. "We have reduced risk by billions of euros, we have strengthened capital and we have reorganized our bank."
This sounds like a farewell from his predecessor, not the opening salvo of a new arrival. It would be better to warn staff that the bank is about to go through hell, but will come out better on the other side. Rival UBS Group AG took steps years ago to exit business lines and slash jobs; Deutsche Bank still needs to do likewise.
This all requires tough decisions and, ultimately, leadership. Sewing has had an inauspicious start, but still has time to deliver more than what he has promised. Until then, expect investors to look to policymakers, rather than management, for reassurance about Deutsche Bank's future.