If MSCI's So Great, Why Are China Stocks Down?
(Bloomberg Opinion) -- Apparently, inclusion in MSCI Inc.'s equity indexes isn't enough.
China's not a place that shies away from front-running concepts, with people often buying shares ahead of a major event. So why then, if billions of dollars in foreign money is about to flow into more than 200 newly included Chinese shares, are stocks in Shanghai and Shenzhen doing so badly? The CSI 300 Index is down 5.7 percent this year, lagging South Korea, Hong Kong and Japan.
Only one sector – healthcare – is in the green, with consumer-staples companies more or less breaking even. Despite all the talk of unicorns, tech firms are off on average 10.8 percent.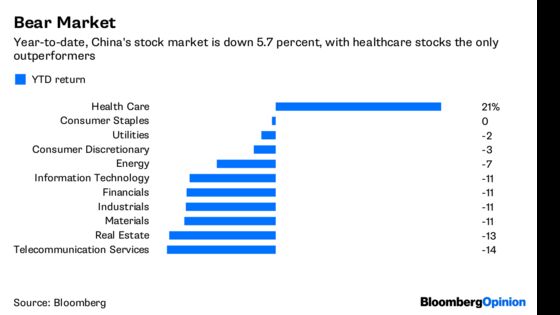 The D-word is partly to blame. As I flagged earlier this week, China is on track for record corporate defaults this year.
But whereas in the past, missed obligations were in unloved old-economy industries such as steel and infrastructure, now they're everywhere from electronics manufacturing to – gasp – information technology. The breadth of the setback makes it particularly dangerous for stocks.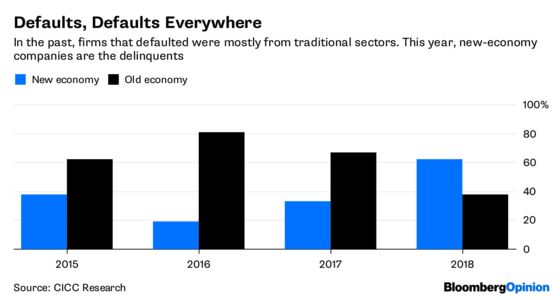 To make matters worse, it's hard to tell the lemons apart in China. Of the 1,500 bonds of publicly traded companies covered by the nation's big four ratings firms, 70 percent are scored AA or above, while 60 percent are ranked AAA.
Beijing Orient Landscape & Environment Co., a $6.3 billion water treatment and soil recovery firm that now as it turns out won't be added to the MSCI China Index, rattled investors last month after it failed to get a planned 1 billion yuan ($156 million) bond sale away. Shanghai Brilliance Credit Rating has Beijing Orient at AA+ with a stable outlook.
As a result, money managers are shunning any sectors with high debt. After all, if a firm defaults on its borrowings, what sort of rights do equity holders have?
And guess which industries have the least debt? Consumer staples and healthcare. Default concerns have also dragged down financials, which comprise one-third of the CSI 300 Index. The asset quality of banks is being questioned again.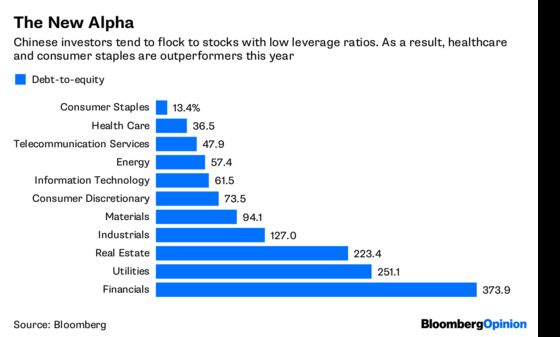 Last year, Beijing said that avoiding a " Minsky Moment" was a top priority. Now, speculation is rife over how far the government will let defaults spread. Authorities have already allowed China Energy Reserve & Chemicals Group Co., which has counted oil behemoth China National Petroleum Corp. as a major backer, to default, along with a local government financing vehicle in Inner Mongolia. Will the powers that be blink if private-sector enterprises go under?
While MSCI inclusion is an exiting development, let's remember where equity holders sit in a company's structure. Debt always has seniority in the payout order, making those scrip certificates exactly what they are: worthless pieces of paper.