Spanish Bonds Prove It – Politics Is a Sideshow
(Bloomberg Opinion) -- Spanish Prime Minister Mariano Rajoy is in the crosshairs of a no-confidence debate in parliament, but you'd never know it by looking at the nation's bonds. Spain's debt yields dropped across the curve on Thursday. Its five-year note declined about 9 basis points. 
This is all about Italy, and how its problems could spill over to other recovering European peripherals. As I wrote last week, some widening is warranted — were the nation to implode, Spain would find itself in a really difficult situation. The relative political peace that's broken out in Italy should translate into lower yields for both — Italy's five-year bond yield fell 35 basis points.
Spanish bonds should be relatively immune to harm from political turmoil. It has done a lot of hard work to improve its fiscal position, and has operated before without a government. It helps that its growth rates are among the best for major economies in Europe — gross domestic product expanded 3 percent in the first quarter from a year earlier, and is forecast by the Bank of Spain to increase 2.7 percent for the whole of 2018.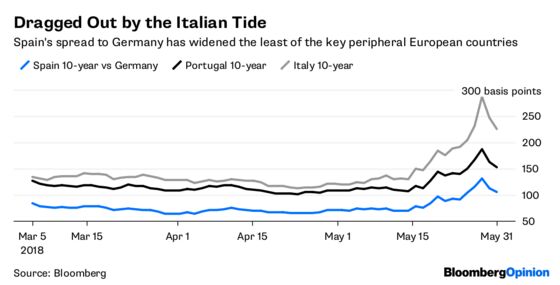 This is reflected in the performance of Spanish debt during Italy's drama this month — the sell-off is far less than for other peripheral countries.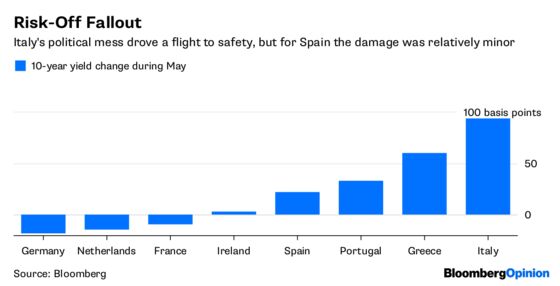 But it is in the shorter end where the difference between Spain and Italy is really visible. Spain still has negative yields in two-year maturities whereas Italian yields are nearly 150 basis points higher on the month, having peaked at about 300 basis points on Tuesday.
With the budget finally passed by the Spanish parliament last week there are no immediate fiscal concerns. And as all of the main political parties are supportive of the EU, Spain presents no existential risk to the bloc — whatever the makeup of the next government. In a nutshell, Spain remains a totally viable investment — its politics are a sideshow.