SoftBank Calls Shotgun With GM Driverless Bet
(Bloomberg Opinion) -- The autonomous transportation space is already the Wild West, and it just got wilder.
SoftBank Group Corp.'s giant technology investment fund reached an agreement to inject $2.25 billion into General Motors Co.'s autonomous driving operation in return for a 19.6 percent stake in a business now valued at $11.5 billion. GM will own 80 percent of the new, semi-independent GM Cruise Holdings LLC. The investment gives a big leg up to Cruise, which has said it wants to put self-driving cars on the road next year.
The agreement announced on Thursday also complicates the already messy picture of players involved in driverless cars. Google's parent company Alphabet Inc., GM, Uber Technologies Inc., Tesla Inc. and others are all racing to develop driverless transportation — sometimes working together but often working at odds — and it has made for a tangle of sometimes overlapping investments, joint ventures, abandoned partnerships and bruised feelings. 
GM invested in Lyft, which then struck a driverless car collaboration with GM rival Ford. SoftBank is now backing autonomous projects underway at both Uber and GM. Alphabet has made deals with a string of competing automakers and owns a chunk of Uber, which it also sued, accusing it of stealing Alphabet's self-driving car technology.
The messiness is inevitable at this stage of development of autonomous transportation because there is no shoo-in candidate to dominate robot-controlled vehicles. The tangle of players is essentially a huge bet that more participants and a rich stew of allies and enemies will breed better technology and smarter policy around it. Fingers crossed. 
Of course there are winners and losers in every new development in the driverless car world. SoftBank's hedging of its bets is a clear boon for GM. Before Thursday, the automaker's shares had fallen about 19 percent from their October peak, with rising raw material costs and a production pause on pickups weighing on profitability. The drop has been a reminder that investors still consider GM a manufacturing company that must deliver on little things like earnings and spending targets that others (cough, Tesla, cough) have been given a pass on. GM shares spiked Thursday morning on news of SoftBank's bet on Cruise.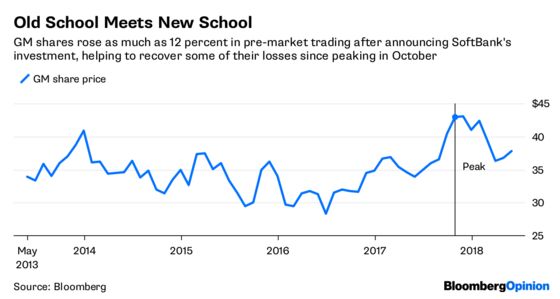 Shareholders in old-school companies, particularly those with a history of bankruptcies, tend to be impatient when it comes to digital reinventions. GM analysts expect the company to spend about $8.5 billion in capital expenditures this year, the most since its 2009 bankruptcy. With SoftBank's investment, GM Cruise is now funded "well into commercialization," GM President Daniel Ammann said on Bloomberg Television. That's a weight off investors' shoulders.
On the flip side, try to imagine Uber CEO's Thursday morning. He learned that his company's biggest shareholder, SoftBank, has billions of reasons to want Cruise to succeed in an area where Uber is also betting its future. It's already an awkward relationship because the Japanese conglomerate backs several of the ride-sharing company's top rivals. SoftBank tends to encourage the companies in which it invests to work together, and it's easy to imagine it nudging Uber to introduce Cruise cars into its on-demand vehicle fleet. It's just as easy to imagine Uber rejecting this. 
Over at Tesla, GM's deal and the market reaction to it should cause at least a ripple of discomfort. The same morning, Tesla was denying reports that its Autopilot driver-assistance system was involved in the recent crash of a Model S in Belgium. While Tesla says the system wasn't engaged in that crash, it was in others that are being scrutinized by federal regulators.
The timing serves to highlight a hare-and-tortoise dynamic. GM's approach to autonomous vehicles is noted for its emphasis on redundancy and conservatism — so much so, in fact, that the Bloomberg News bureau chief in Detroit found a ride in one a bit of a snooze. Before the SoftBank tie-up, no one seemed to be buying GM's stock in anticipation of it racing to the front of the autonomous future.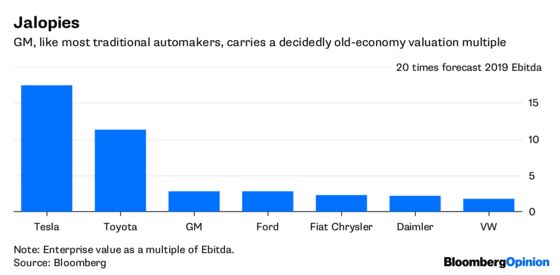 This messy picture of players in autonomous technology was inevitable. Cars are not like an app that two kids can work on in secret in their garage and spring on the world one day. Autonomous transportation needs the coordinated efforts of policy makers, companies that design or build cars, suppliers that can create specialized parts, and software mavens who can give robot cars a brain and make them safe. 
Conventional wisdom says incumbents' efforts to be their own disruptors are doomed to failure. GM's move isn't guaranteed to prove that wrong, especially with the field so crowded. But it certainly keeps it in the race.
— Brooke Sutherland contributed to this column.